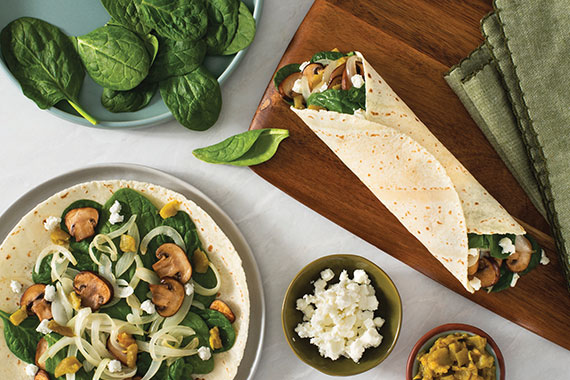 Spinach, Mushroom and Green Chile Wraps
Finally, a spinach veggie wrap everyone can enjoy, even the pickiest of kids (or adults). With sauteed mushrooms, garlic, fresh spinach, and green chiles for an added burst of flavor, these veggie wraps are perfect for any meal, snack, or otherwise. Best of all they are rich in vitamins A, B, C and K, iron, protein, fiber, and antioxidants. For an added dose of health, wrap them in our Mission® Gluten Free Tortillas. Who knew vegetables could taste so good?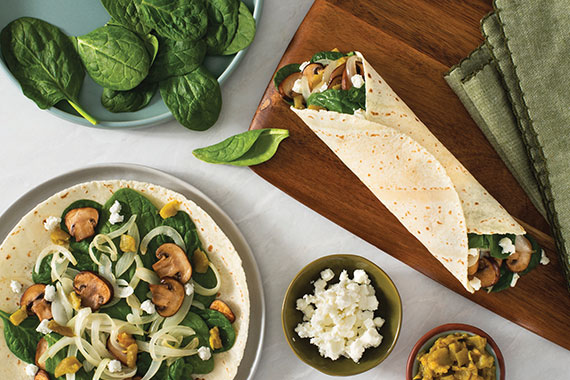 Featured Product
---
Ingredients
---
6
Mission Gluten Free Soft Taco Tortilla Wraps, warmed
2
tbsp. Olive oil, divided
1
Medium yellow onion, thinly sliced
1
lb. Cremini, Button or Baby Bella mushrooms, sliced
1
can (4 oz.) Diced green chiles
3
cups Fresh baby spinach
¾
cup Goat cheese crumbles
Instructions
---
Step 1
Warm 1 tbsp. olive oil in a large skillet over medium heat. Sauté onions and salt until they begin to soften, about 3-4 minutes. Add remaining tbsp. olive oil, mushrooms and garlic and continue to cook until mushrooms are tender, about 10 minutes more. Stir in green chiles and cook an additional 2 minutes. Remove pan from heat.
Step 2
Lay out tortillas on a clean work surface and layer each with spinach, mushroom mixture and cheese. Fold in one end then roll tightly to create wrap.
---