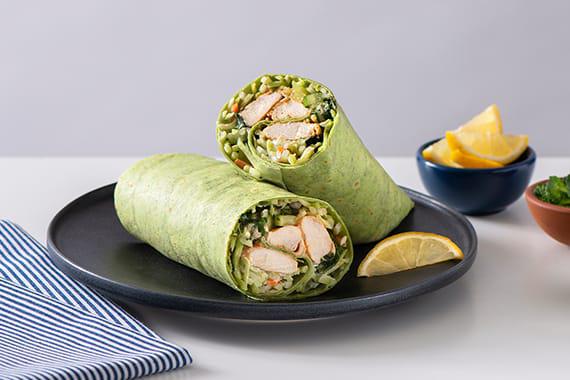 Tandoori Chicken Wraps
These Tandoori Chicken Wraps are quick and easy to prepare and you can easily eat them on the run. Made with tandoori chicken, broccoli slaw, cucumber, mint, and topped with Greek yogurt, they are perfect for an effortless weeknight meal. You can even wrap up the leftovers for a delicious lunch the next day.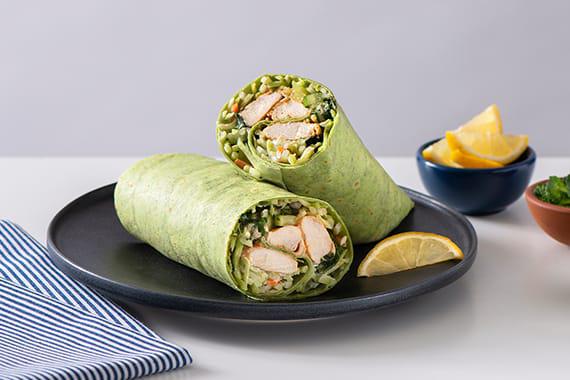 Featured Product
---
Ingredients
---
4
Mission Carb Balance Spinach Herb Tortilla Wraps, warmed
½
cup Plain Greek yogurt, divided
¼
cup Fresh mint, thinly sliced
4
lemon wedges, for serving (optional)
Instructions
---
Step 1
Preheat broiler. Stir together paprika, garam masala, curry powder, garlic powder, ginger, salt and pepper; toss with chicken tenders. Add 2 tbsp. Greek yogurt, oil and lemon juice, tossing to coat well.
Step 2
Arrange on foil-lined baking sheet; broil for 3 to 5 minutes per side or until chicken is golden and cooked through.
Step 3
Meanwhile, warm tortilla wraps according to package directions.
Step 4
Assemble tandoori chicken, broccoli slaw, cucumber and mint in warm tortilla wraps. Drizzle with remaining yogurt. Serve with lemon wedges (if using).
Step 5
Fold up bottom of tortilla over filling; fold in sides and roll up tightly starting from the bottom.
---