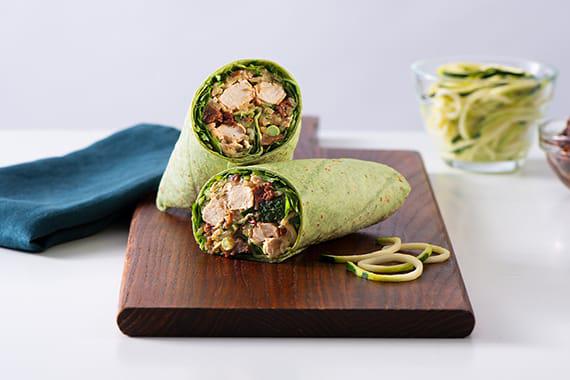 Vegan Chicken & Zoodles Wraps
Looking for great Meatless Monday recipes? Look no further than our Vegan Chick'n and Zoodles Wraps. Combine zucchini noodles with broccoli, plant-based vegan chicken, and sun dried tomatoes to create a delicious wrap that has all the flavor and texture of a chicken wrap without the carbon footprint.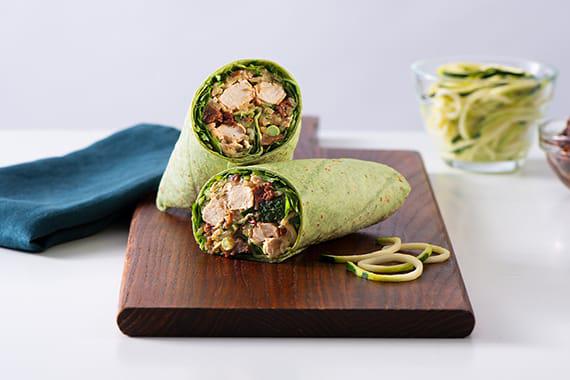 Featured Product
---
Ingredients
---
4
Mission Carb Balance Spinach Herb Tortilla Wraps, warmed
1
pkg. (14 oz.) Plant-based chick'n strips
2
cups Broccoli florets, small
4
oz. Spiralized zucchini noodles (store-bought)
¼
cup Sun-dried tomatoes, chopped
Instructions
---
Step 1
Heat oil in large skillet set over medium heat; cook chick'n strips and broccoli for 5 to 7 minutes or until chick'n starts to brown and broccoli starts to soften.
Step 2
Stir in zucchini noodles with sun-dried tomatoes, garlic and salt; cook for 2 to 3 minutes or until zucchini noodles are well coated. Cover and cook for 1 to 2 minutes or until chick'n is heated through, and broccoli and zucchini noodles are tender.
Step 3
Meanwhile, warm tortilla wraps according to package directions.
Step 4
Assemble chick'n mixture in warm tortilla wraps with arugula, basil and a drizzle of balsamic glaze.
Step 5
Fold up bottom of tortilla over filling; fold in sides and roll up tightly starting from the bottom.
---