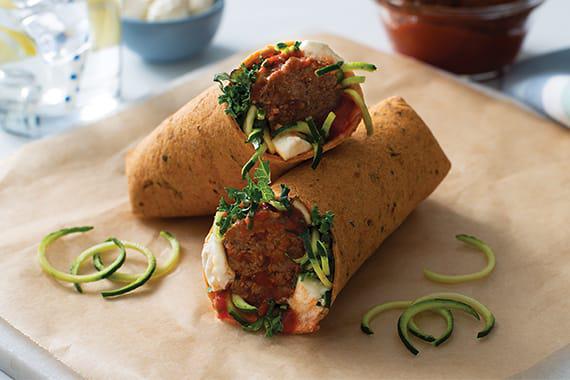 Zoodles and Meatball Keto Wraps
Italian meet Keto. Ever wish there was an easier, healthier way to eat spaghetti and meatballs? Well, you just found it. These protein-rich, low carb Zoodles and Meatball Keto Wraps are truly one of a kind. Fresh, spiralized zucchini noodles, tasty homemade meatballs, and crispy vegetables, conveniently wrapped with a Mission Carb Balance Sundried Tomato Basil tortilla for the Best. Lunch. Ever.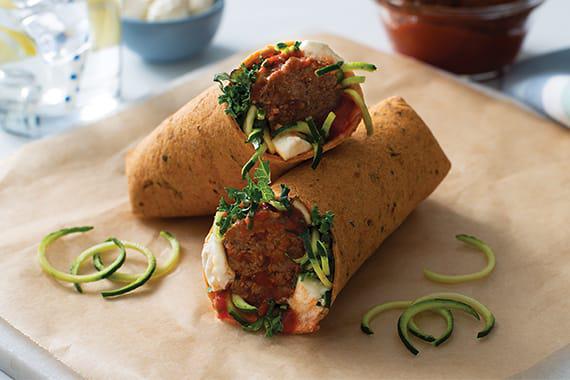 Featured Product
---
Ingredients
---
6
Mission Carb Balance Sundried Tomato Basil Wraps, warmed
2
cups Zucchini noodles, spiralized (store-bought)
1
tub (8 oz.) Mini bocconcini, drained and halved
Instructions
---
Step 1
Mix ground beef, pesto, salt and pepper until combined. Stir together 1 tsp. hot water and baking soda; stir into meat mixture. Roll into 18 (1-inch) meatballs.
Step 2
Heat oil in large skillet set over medium heat; cook meatballs for 8 to 10 minutes or until browned all over and cooked through. Stir in tomato sauce; bring to simmer. Cook for 6 to 8 minutes or until sauce is thickened slightly and clings to meatballs.
Step 3
Warm tortillas according to package directions. Arrange kale evenly down the center of each tortilla, leaving 1-inch border at both ends.
Step 4
Top with zucchini noodles, meatballs and bocconcini. Spoon any remaining sauce over top.
Step 5
Fold up bottom of tortilla over filling; fold in sides and roll up tightly starting from the bottom.
Tips
Substitute fresh mozzarella slices or shredded mozzarella cheese for bocconcini, if desired. Serve with grated Parmesan cheese, if desired.
---