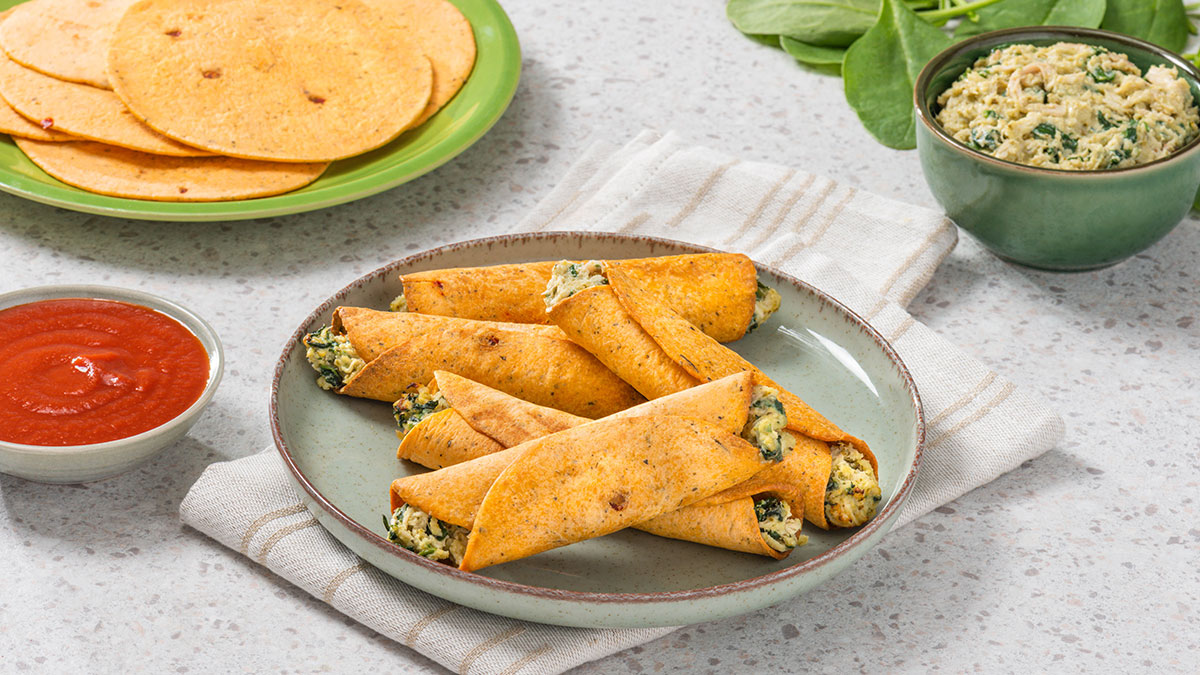 Air Fryer Cheesy Chicken and Spinach Taquitos
With all the comforting flavors of cheese-stuffed pasta, these yummy air-fried crispy taquitos with spinach and chicken are a low-carb feast for lunch or dinner.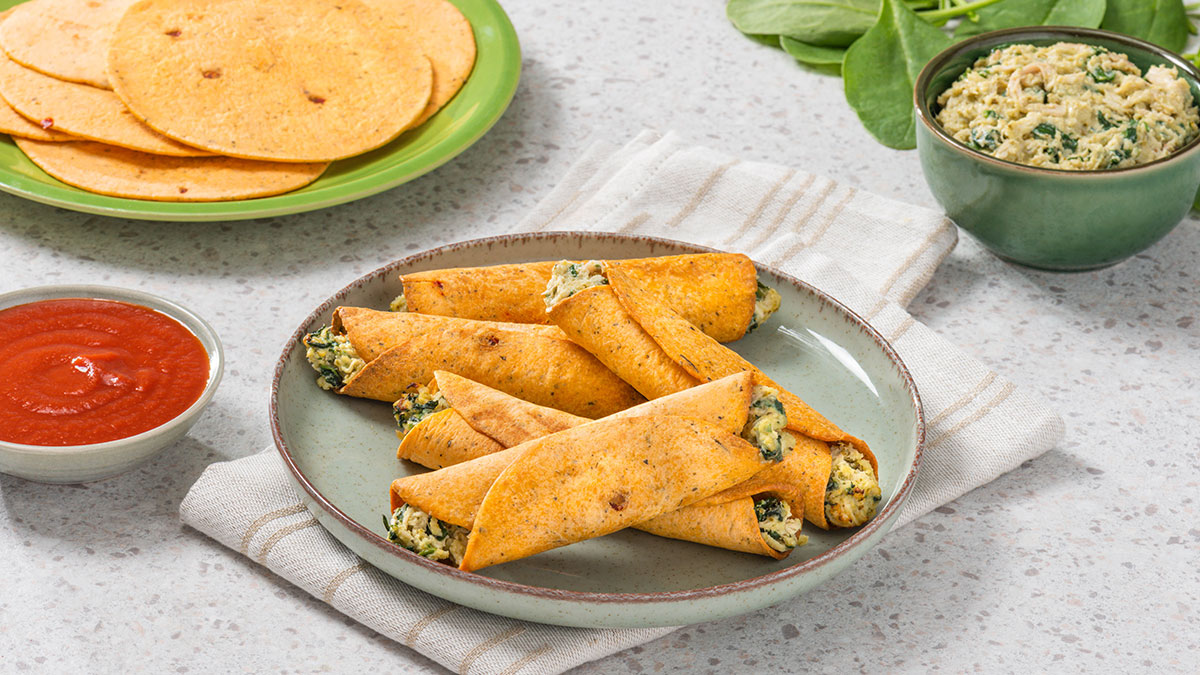 Featured Product
---
Ingredients
---
8
Mission® Zero Net Carbs Sundried Tomato Basil Tortillas
2
tbsp olive oil, divided
3
cups packed baby spinach
3/4
cup shredded cooked chicken
1/2
cup ricotta cheese, drained
1/3
cup shredded mozzarella cheese
1/4
cup grated Parmesan cheese
2
tbsp jarred basil pesto
3/4
cup low-carb tomato sauce, warmed for dipping
Instructions
---
Step 1: Cook spinach
In large skillet set over medium heat, add 1 tbsp oil. Add spinach and cook, stirring occasionally, for 3 to 5 minutes or until wilted. Season with salt and pepper. Let cool slightly and squeeze to remove excess moisture. Roughly chop spinach.
Step 2: Prepare filling
In large bowl, stir together chicken, ricotta, mozzarella, Parmesan and pesto until combined. Stir in spinach.
Step 3: Warm tortillas
Meanwhile, warm tortillas according to package directions.
Step 4: Roll up taquitos
Spoon filling down center of each tortilla, dividing evenly. Roll up tightly like a cigar. Brush top of each taquito with remaining oil.
Step 5: Preheat air fryer
Preheat air fryer to 400°F according to manufacturer's instructions.
Step 6: Cook taquitos
In batches to avoid crowding, arrange taquitos in air-fryer basket. Cook, turning once, for 4 to 5 minutes or until golden brown and crispy.
Step 6: Serve taquitos
Serve with tomato sauce for dipping.
Tips: Alternatively, substitute basil pesto with sun-dried tomato pesto or olive tapenade if preferred.
To drain ricotta cheese, arrange strainer or colander over large bowl with at least 2 inches space between them. Line with 2 layers of cheesecloth (or strong paper towels). Add ricotta and fold cheesecloth around ricotta to enclose. Top with a heavy bowl to press down. Refrigerate for at least 4 hours (best is overnight). Squeeze ricotta to remove any remaining liquid before using.
---