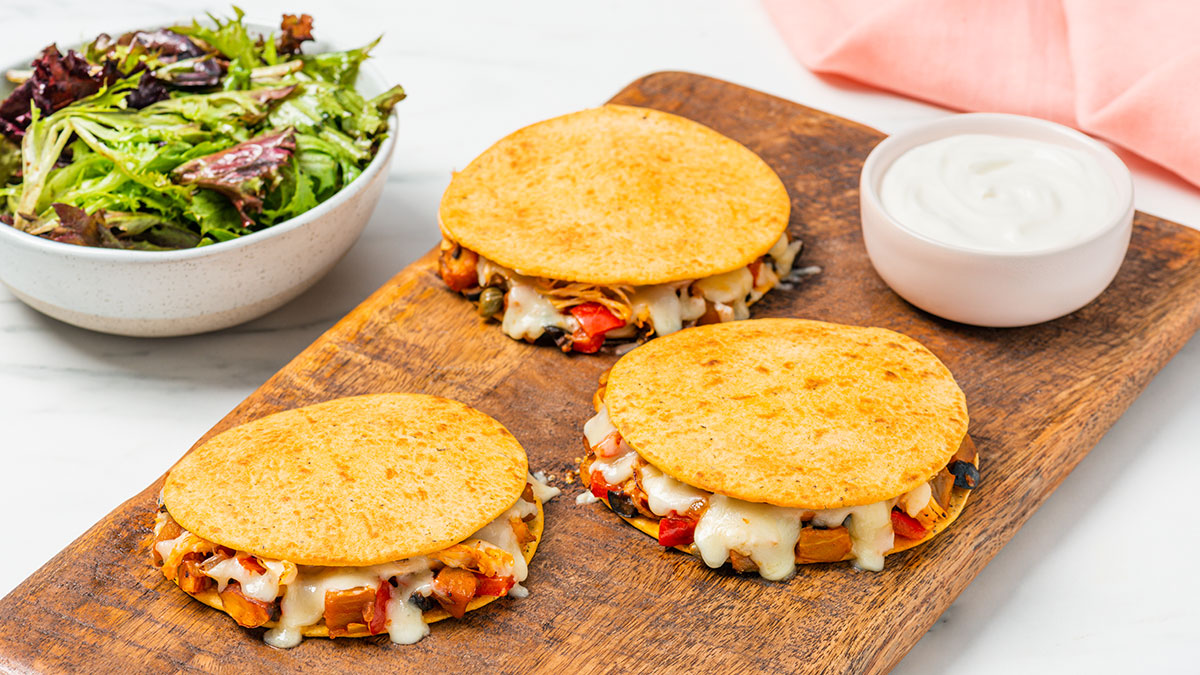 Chicken and Eggplant Caponata Quesadilla
Caponata is a Sicilian-style vegetable relish that is packed with flavor. It transforms this simple quesadilla into gourmet fare.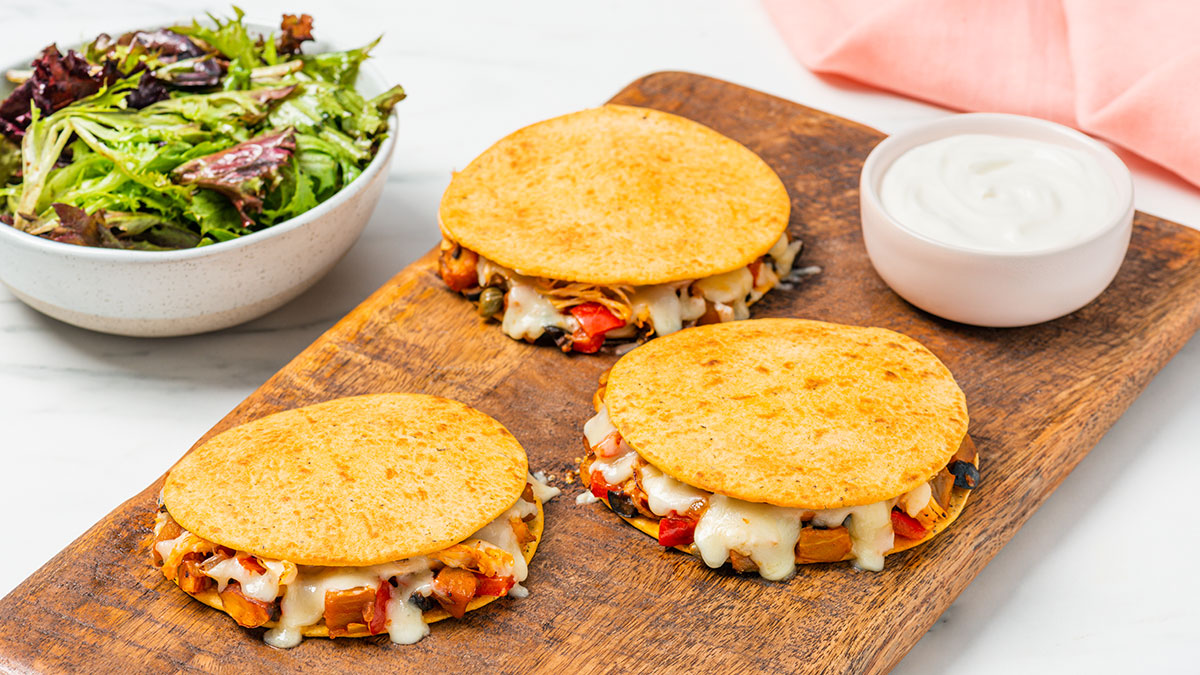 Featured Product
---
Ingredients
---
16
Mission® Zero Net Carbs Sundried Tomato Basil Tortillas
1/4
cup olive oil, divided
1
small eggplant, diced (about 2 cups)
1/2
cup diced red bell pepper
1/4
cup diced black pitted olives
1/4
cup fresh torn basil leaves
1 1/2
cups shredded mozzarella cheese
1/4
cup grated Parmesan cheese
1
cup shredded cooked chicken
4
tsp vegetable oil, divided
1/3
cup keto-friendly vinaigrette
1
cup sour cream, for serving (optional)
Instructions
---
Step 1: Sauté Eggplant and Vegetables
In large skillet set over medium heat, add 2 tbsp olive oil. Add eggplant, onion, red pepper, garlic, salt and pepper; cook, stirring occasionally, for 5 to 8 minutes or until eggplant is starting to soften. Stir in tomato paste. Cook, stirring, for 1 minute or until coated. Stir in olives, almonds, capers, vinegar and remaining 2 tbsp olive oil. Cook, stirring occasionally, for 3 to 5 minutes or until eggplant is tender and caponata flavors are married. Stir in basil.
Step 2: Assemble Tortillas
In small bowl, stir together mozzarella and Parmesan. Sprinkle half the cheese mixture evenly over 8 tortillas. Top evenly with chicken, caponata and remaining cheese mixture. Cap with remaining tortillas.
Step 3: Cook Quesadillas
In large skillet set over medium heat, brush 2 tsp vegetable oil. In batches and adding more vegetable oil as needed, cook quesadillas, turning once, for 4 to 6 minutes or until tortillas are golden brown and cheese has melted.
Step 4: Assemble Salad
In medium bowl, toss mixed greens with vinaigrette until coated.
Step 5: Serve Quesadillas
Cut quesadillas in half and serve with salad and, if using, sour cream.
Tip: Serve quesadilla also with warmed tomato sauce for dipping if desired.
---