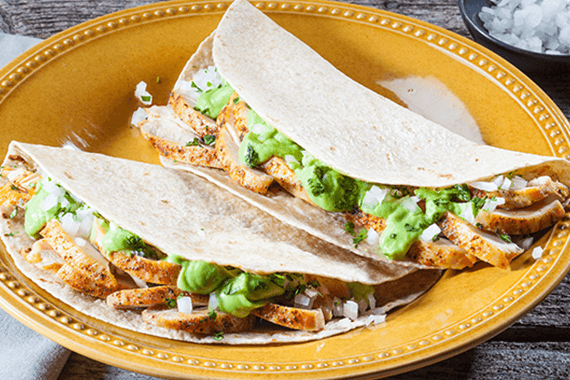 Featured Product
---
Ingredients
---
8
Mission Soft Taco Whole Wheat Tortillas
5
Boneless, skinless chicken thighs
1
Tbsp Ancho chile powder
½
Large avocado, pitted and diced
Instructions
---
Step 1
Preheat oven to 425℉. Lightly oil a baking sheet.
Step 2
In a small bowl mix together cumin, chile powder, and 1 teaspoon salt. Rub chicken with oil, then with cumin mixture, and place on baking sheet. Bake until cooked through, 15-18 minutes. Internal temperature should reach at least 170℉.
Step 3
While chicken cooks, in a blender or food processor combine avocado, lime juice, olive oil, ½ teaspoon salt, and 2 tablespoons water. Blend until completely smooth, adding up to 2 tablespoons more water if needed to reach a smooth, creamy consistency.
Step 4
In a large, dry skillet over medium, heat tortillas 1 at a time, flipping once, until heated through and pliable. Transfer to a plate and warm remaining tortillas, stacking them on top of each other.
Step 5
Thinly slice chicken and serve in tortillas drizzled with avocado cream and topped with onion and cilantro.
---