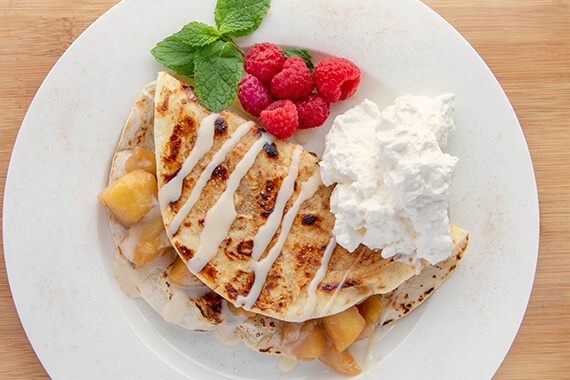 Featured Product
---
Ingredients
---
6
Soft Taco Flour Tortillas
3
cups Apples, peeled and chopped
Instructions
---
Step 1
For the sugar drizzle: Serve immediately, wrapped in foil or held together with a toothpick if desired. Put drizzle into a small plastic bag, cutting the tip of the bag and drizzle the apple pie fold-overs when ready.
Step 2
For the fold-overs: Combine cinnamon and sugar and set aside until needed. Combine cinnamon and sugar and set aside until needed.
Step 3
Stir in brown sugar, cinnamon and a pinch of sea salt. Simmer 5 minutes. Stir frequently.
Step 4
Combine flour and granulated sugar. Stir into apple mixture. Bring to a boil and allow to boil for 1 minute. Stir in butter and set aside keeping warm until needed.
Step 5
Heat both sides of the Soft Taco Flour Tortillas on a skillet. This will help the tortilla get some color and finish the cooking process. (big bubbles can appear and this is normal, they will go down)
Step 6
Brush one side of the Soft Taco Flour Tortillas with butter, then sprinkle with cinnamon sugar. Repeat this process for each tortilla.
Step 7
Place the buttered and sugared tortilla back on the skillet long enough to get some caramelization of the sugar; giving the tortilla a beautiful golden brown color. Just be careful not to burn the tortilla or burn your hands when you remove them from the skillet. Sugar can cause some pretty bad burns. Repeat this process until you've finished the tortillas.
Step 8
Fill un-sprinkled side of tortilla with apples and fold over. Repeat the process until finished and drizzle with the glaze and serve immediately.
Step 9
Garnish with fresh berries, mint leaves and whipped cream.
---