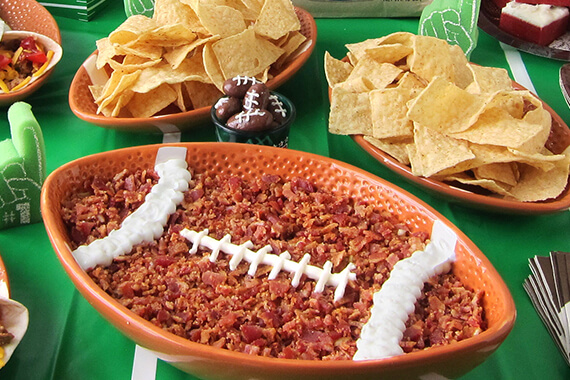 Featured Product
---
Ingredients
---
1
bag Strips Tortilla Chips
1
lb cooked crispy Bacon, crumbled
2
(12 ounce) jars marinated Artichokes
⅓
cup roasted and salted Cashews
¼
cup freshly grated Parmigiano Reggiano Cheese
½
tsp freshly squeezed Lemon juice
¼
cup extra virgin Olive oil
2
Tbsp Sour cream for decorating
4
oz of Whipped cream cheese for a creamy dip
Instructions
---
Step 1
Drain the liquid off the artichokes. Pour the artichokes into a sieve or colander and allow the liquid to drain off. Then press down on the artichokes to remove the excess liquid. The flavor of the marinade will remain on the artichokes. Do not rinse it off.
Step 2
Pour 3/4's of the artichokes into the bowl of a food processor.
Step 3
Add the cashews, Parmigiano Reggiano cheese, lemon juice and 1/3 cup of the bacon crumbles.
Step 4
Pulse a few times to chop the items, then with the food processor running, drizzle in the extra virgin olive oil until the mixture becomes finely chopped and well blended. Taste, then season with salt and pepper. Then remove the pesto from the food processor and place in a mixing bowl.
Step 5
If you want a creamier dip stir in the whipped cream cheese. If you don't have whipped cream cheese, you can beat a 1/2 a block of cream cheese until light and creamy.
Step 6
Chop the remaining artichokes into small pieces and stir into the pesto.
Step 7
Pour the pesto into a football shaped ceramic bowl. Spread the remaining bacon over top of the dip, covering it completely.
Step 8
If you want to serve the dip hot, heat it in a 350 degree Fahrenheit oven for about 15 minutes until heated through, otherwise serve the dip cold. (Hungry Happenings personally thinks the pesto is great cold but if cream cheese is added then the dip should be warmed up.)
Step 9
Pipe sour cream laces down the center of the football and stripes on either end.
Step 10
Serve the dip with Strips Tortilla Chips.
---