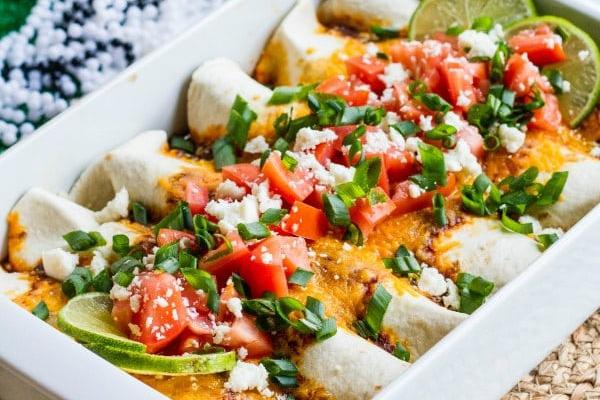 Featured Product
---
Ingredients
---
Mission Super Soft flour Tortillas
BEER BRAISED BEED BARBACOA
2
tablespoon olive oil, divided
2
dried guajillo peppers, soaked stemmed and seeded
2
dried ancho peppers, soaked stemmed and seeded
7
oz can Chipotle in adobo sauce
½
teaspoon ground cinnamon
2
cup shredded cheddar cheese
dived tomatoes, green onions, queso blanco, cilantro
Instructions
---
BEER BRAISED BEEF BARBACOA
Step 1
Soak the dried guajillo peppers and ancho peppers in a bowl covered with water for 1-4 hours until softened.
Step 2
Preheat oven to 300 degrees. Season the beef with salt and pepper.
Step 3
Add the olive oil to a dutch oven or large pan with an oven proof lid. Heat oil on medium to high heat. Sear the seasoned beef for 2 minutes on each side. Set aside once seared.
Step 4
In a blender, add in guajillo peppers, ancho peppers, can of chipotle, garlic cloves, brown sugar, salt, oregano, cinnamon and beer. Blend until smooth.
Step 5
Pour sauce over beef in the pan. Place the lid on and braise in oven for 2.5 hours. Remove beef and shred.
Step 6
Remove 1 cup of sauce and set aside for enchiladas. Return shredded beef to pan and stir into the remainder of the sauce.
BEEF ENCHILADAS
Step 7
Preheat oven to 375 degrees. Grease a 9×13 baking dish. Pour 1/4 cup of the reserved sauce in the bottom of the baking dish.
Step 8
To each tortilla, add shredded beef (about 1/2 cup) and a small handful of cheddar cheese (about 1/4 cup).
Step 9
Wrap tortillas tightly around filling, placing seam side down in baking dish.
Step 10
Pour remaining sauce on top of the enchiladas and sprinkle the remaining cheddar cheese down the middle. Bake for 15-20 minutes.
Step 11
Garnish with desired toppings like diced tomatoes, green onions, queso blanco and cilantro.
---