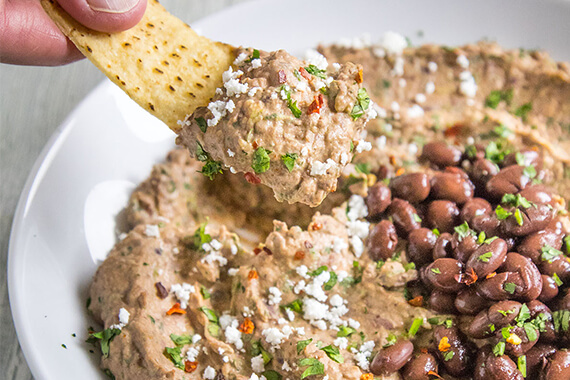 Featured Product
---
Ingredients
---
1
bag Strips Tortilla Chips
12
oz can Black beans drained
½
cup Mexican crema or sour cream
crumbly White cheese for garnish
fresh chopped Herbs for garnish
Spicy chili flakes for garnish
Instructions
---
Step 1
Roast the jalapeño pepper over an open flame, flipping here and there until the skin chars and blackens. It will start to do so in about 2-3 minutes. Alternatively, you can roast the jalapeño in the oven at 400 degrees Fahrenheit for about 20 minutes or so, until the skins blackens and bubbles up.
Step 2
Flip the jalapeño and blacken both sides. Add the jalapeño to a paper bag or plastic baggie and seal. Let it steam in the baggie for about 5 minutes to loosen the skin.
Step 3
Remove peel off the skin. A towel will help, or a fork. Discard the skin.
Step 4
Slice off the stem and give the jalapeño a rough chop. Toss it into a food processor with all of the ingredients and process until the dip is nice and smooth.
Step 5
Spread the Black Bean Dip into a serving bowl and top it with chopped green herbs, crumbly white cheese and spicy chili flakes, if desired.
Step 6
Serve it up with Strips Tortilla Chips!
---