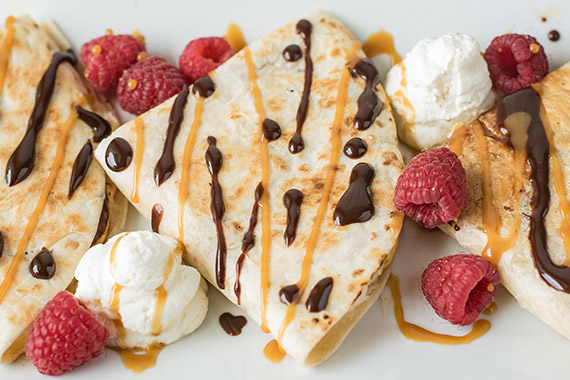 Caramelized Plantain Quesadillas
Our Caramelized Plantain Quesadillas recipe is carefully crafted to make your next meal time extraordinary. Get the step by step instructions to make this delicious dish.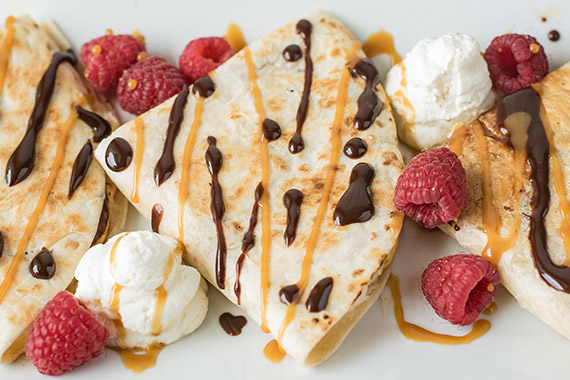 Featured Product
---
Ingredients
---
4
Organic Flour Tortillas
8
oz cream cheese, softened at room temperature for 1 hour out of package
small pinch of ground cinnamon to taste
4
oz heavy whipping cream
2
tbsp unsalted butter, divided and softened to room temperature
2
ripe plantains, peeled and cut into 1/4 inch slices
Instructions
---
Step 1
In a bowl add the cream cheese, the first 1/2 teaspoon powdered sugar, vanilla and cinnamon. Mix well and set aside.
Step 2
Use a hand mixer or electric mixer to whip the cream and second 1/2 teaspoon powdered sugar until you get soft peaks. Refrigerate until ready to use.
Step 3
Heat a cast iron skillet over medium heat. Add 1 tablespoon butter and sugar and heat until the butter is melted and sugar dissolved.
Step 4
Add the plantains and cook until browned, 2 minutes per side. Swirl the butter around the plantains to coat evenly. Turn them and brown on the other side.
Step 5
Remove from the pan and set aside. Wipe out the pan.
Step 6
Spread 1 tablespoon of cream cheese onto a tortilla. Cover half of the tortilla with an even layer of plantains, about 8 slices. Fold the tortilla in half.
Step 7
Heat the cast iron skillet over medium heat and use a spatula to carefully place the tortilla into the pan. Cook until brown and crispy for 3 minutes then carefully turn and brown for 3 more minutes on the other side.
Step 8
Remove the quesadilla and top with whipped cream, chocolate sauce and caramel.
---