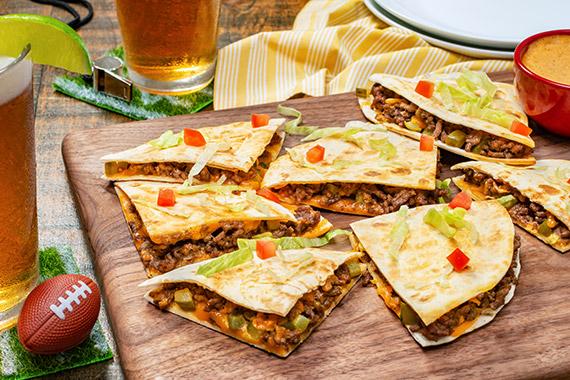 Cheeseburger Quesadillas
Cheeseburger quesadillas for the win! With ooey-gooey Cheddar cheese, these burger-inspired quesadillas are a tasty snack for everyone watching the big game.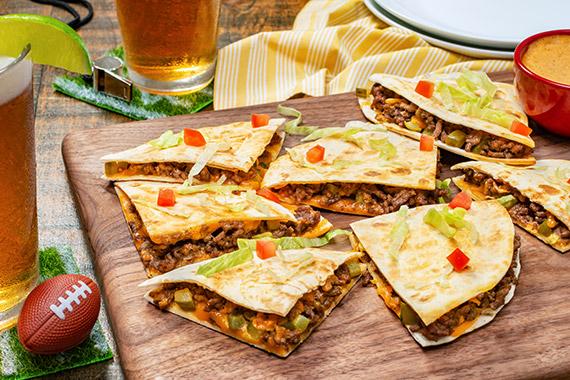 Featured Product
---
Ingredients
---
10
Mission® Super Soft® Flour Tortillas
1
tbsp Worcestershire sauce
1 ¼
cups shredded Cheddar cheese
Zesty Aioli Dipping Sauce
1
tbsp apple cider vinegar
1 ½
cups shredded lettuce
Instructions
---
Step 1: Cook Onions
Heat 2 tbsp oil in large skillet set over medium-high heat; cook diced onion for 3 to 5 minutes or until softened.
Step 2: Cook Beef
Add ground beef, garlic, Worcestershire sauce and cumin; cook for 8 to 10 minutes or until beef starts to brown and is cooked through. Season with salt and pepper.
Step 3: Make Quesadilla
Place 1 tortilla in separate large skillet set over medium heat; sprinkle 1/4 cup cheese over top. Top evenly with 1/4 cup beef and 2 heaping tbsp of pickles. Cap with another tortilla to enclose fillings. Cook for 2 to 3 minutes per side or until cheese is melted. Repeat with remaining tortillas and filling.
Step 4: Make Zesty Aioli Dipping Sauce
In bowl, combine mayonnaise, mustard, barbecue sauce, vinegar, garlic, chili powder and pepper.
Step 5: Serve Cheeseburger Quesadillas
Cut each cheeseburger quesadilla into 4 wedges. Garnish with tomatoes, lettuce and serve with aioli dipping sauce.
---