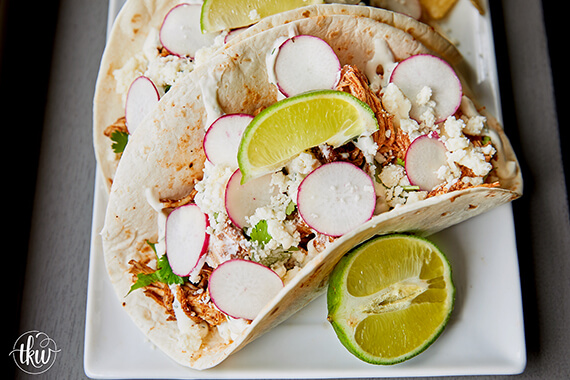 Chicken Barbacoa Soft Tacos
Our Chicken Barbacoa Tacos recipe is a quick and easy take on slow cooked Mexican barbecue. These delicious street tacos are made using juicy, tender chicken pressure cooked with Mexican spices and placed in a warmed soft tortilla with lima crema. Smoky, tangy, and loaded with flavor.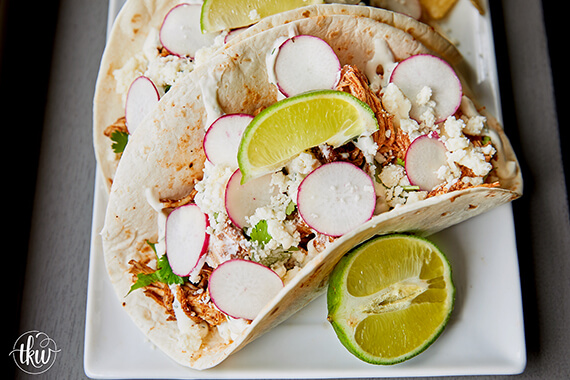 Featured Product
---
Ingredients
---
8
Mission Soft Taco Flour Tortillas
1
cup Full fat sour cream
CHICKEN BARBACOA INGREDIENTS:
2
lbs. Boneless, skinless chicken breasts or mix of breasts and thighs
2
tbsp. Apple cider vinegar
1
tsp. Adobo sauce (more means it's hotter)
1
cup Chicken stock (or water)
2
tbsp. Cilantro, chopped
Instructions
---
Step 1: Make Lima Crema
For the Lime Crema – Put all of the ingredients in a bowl and whisk together. Transfer to a container, cover and chill for at least 30 minutes. Ingredients for Lime Crema include: Sour cream, heavy whipping cream, lime juice, lime zest, granulated garlic, kosher salt.
Step 2: Cook Barbacoa Chicken
To make the barbacoa – In a blender, combine the vinegar, tomato paste, garlic, cumin, oregano, cloves, pepper, salt, lime juice, chipotle peppers, adobo sauce, sugar and stock. Blend to combine. To at least a 6qrt pressure cooker, add the chicken, bay leaves and the liquid from the blender. Lock the lid, set the timer for 10 minutes on high. When the timer is done, do a quick release on the pressure.
Step 3: Shred Chicken
Remove the lid and shut off the pressure cooker. Using tongs, take out the chicken pieces placing them either into the bowl of a stand mixer fitted with the paddle attachment or on a plate. If using the mixer, turn it on and mix just until the chicken is shredded (leave some chunks). If doing it by hand, use 2 forks and shred the chicken. Remember you want some bigger pieces.
Step 4: Poach Chicken
With the liquid still in the pressure cooker, remove the bay leaves (discarding them) and place the shredded chicken back into the liquid. Add in the 2 tbsp. of cilantro, stir and let it rest in the liquid for a few minutes. Strain the chicken reserving the liquid for rice or another use.
Step 5: Warm Tortillas
In a large, ungreased pan over medium heat add Mission® Super Soft Flour Tortillas to the pan and cook for 15-30 seconds or until warmed through. Repeat until all are warmed through.
Step 6: Make Barbacoa Tacos
To the bottom of a warmed tortilla, add some barbacoa chicken, Cotija, lime crema, radish slices, cilantro and chopped tomatoes.
---