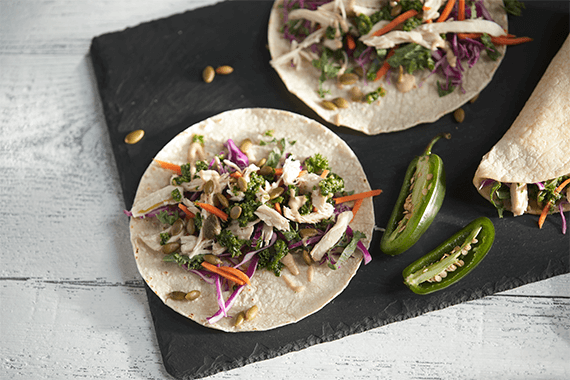 Featured Product
---
Ingredients
---
8
Organic White Corn Tortillas
2
boneless skinless chicken breasts (about 1 lb)
2
cups roughly chopped cilantro leaves and stems
½
cup toasted pumpkin seeds, divided
2
tbsp finely grated Parmesan
2
garlic cloves, minced and divided
2
cups thinly shredded red cabbage
1
cup thinly shredded kale
Instructions
---
Step 1
Preheat oven to 375℉. Rub chicken all over with oil and ½ teaspoon salt and place on a baking sheet. Bake until the juices run clear when cut, 20-25 minutes (internal temperature should reach 165℉). Let chicken cool slightly, then shred with 2 forks.
Step 2
While chicken bakes, in a food processor combine cilantro, ¼ cup pumpkin seeds, Parmesan, 1 garlic clove, and ¼ teaspoon salt. Pulse until finely ground. With machine running, add olive oil in a thin stream until combined.
Step 3
In a medium bowl whisk together tahini, lemon juice, remaining garlic clove, remaining ¼ teaspoon salt, and 2-3 tablespoons cool water or enough for the tahini to reach a sauce-like consistency.
Step 4
In a medium bowl toss to combine cabbage, kale, and carrot.
Step 5
To serve, spread a thin layer of pesto on each tortilla, then top with ½ cup slaw and ⅓ cup shredded chicken, and drizzle with 1 tablespoon tahini sauce. Sprinkle with remaining pumpkin seeds.
---