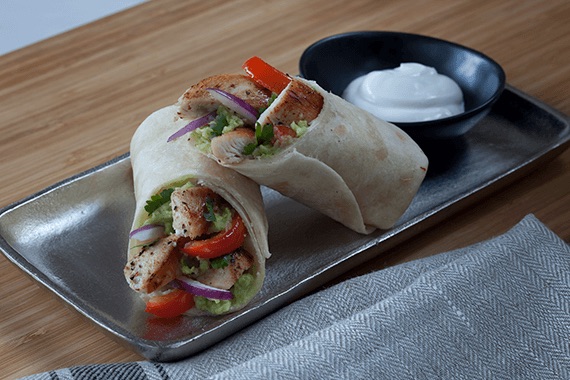 Featured Product
---
Ingredients
---
4
Mission Organics Flour Tortillas
2
small boneless, skinless organic chicken breasts
1
avocado, roughly chopped
¼
tsp ground black pepper
½
cup red and green bell peppers, sliced
¼
cup shredded white cheese
Instructions
---
Step 1
To grill chicken: Preheat oven to 350°F. Brush grilling skillet lightly with 1 teaspoon canola oil in medium high heat. Grill chicken breast on both sides about oil over medium high heat for about 5 minutes per side. Place in oven for about 10 to 14 minutes, or until chicken is no longer pink.
Step 2
Prepare guacamole by placing the avocado in a bowl and mashing with a fork. Stir in tomato, chopped red onion, cilantro, lime juice, cilantro, salt, and pepper. Mix well. Set aside.
Step 3
Heat 1 tablespoon canola oil in medium non-stick skillet over medium high heat. Add red and green bell peppers, and sliced red onions, stirring constantly, until vegetables are tender, about 4 to 5 minutes. Season with salt.
Step 4
Add chicken and cook for 1 to 2 minutes or until chicken is heated through.
Step 5
Warm tortillas for 10 to 15 seconds on each side on an ungreased pan.
Step 6
To assemble each burrito: lay warm tortilla out flat and spread 2 teaspoons of guacamole. Spoon 1/4 the amount of chicken down the middle of the tortilla. Wrap tightly. Serve warm with side of sour cream, if desired.
---