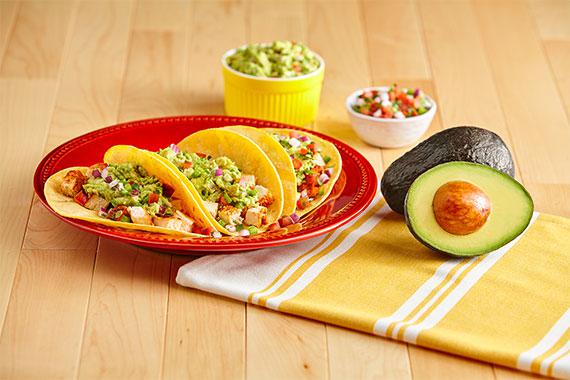 Chicken Tacos with Pico de Gallo & Homemade Guacamole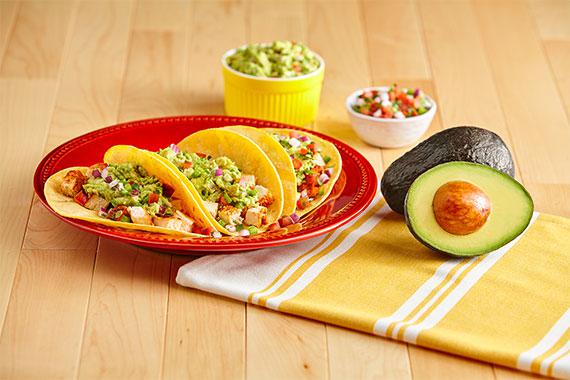 Featured Product
---
Ingredients
---
8
Mission Yellow Corn Tortillas
1
Avocado From Mexico halved, pitted and diced
1
lb. Chicken thighs, boneless skinless or chicken breasts
1
tbsp. Lime juice (optional)
½
tsp. Paprika (optional)
----------------------------------------
½
cup Onion, finely chopped
½
cup Tomato, finely chopped
¼
cup Cilantro, finely chopped
1
Jalapeno seeded, finely chopped
Pinch of salt and pepper to taste
----------------------------------------
2
cups of Avocados From Mexico Homemade Guacamole
1
Avocados From Mexico peeled, pitted, and diced
Instructions
---
Step 1
Add the chicken, garlic, olive oil, lime, and spices, to a large bowl or zip-seal bag and stir or shake to combine.
Step 2
Heat a large pan to medium-high heat. Cook chicken 6-7 minutes per side or until it is no longer pink and the internal temperature of 165 degrees F. Remove from heat and cool for at least 5 minutes. Slice or chop into small cubes.
Step 3
Combine the chopped tomato, jalapeno, onion, cilantro, and lime juice in a small bowl.
Step 4
Char tortillas on the stove top over the flame until lightly charred (optional).
Step 5
Assemble tacos by placing about 1/4 cup of chicken into each tortilla. Top with a few tablespoons of the onion-tomato mixture and a drizzle of cilantro sauce (optional).
Step 6
Top with Avocados From Mexico homemade guacamole.
---