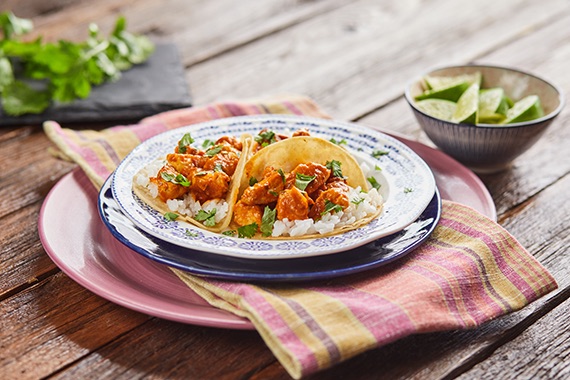 Featured Product
---
Ingredients
---
Mission Street Tacos Corn Tortillas
1
lb Boneless skinless chicken breasts (or try Paneer or tofu)
4
Tbsp Tikka masala paste (packaged)
¾
cup Plain whole-milk yogurt
1
Small white onion, finely diced
1
tsp Chopped ginger and garlic
¾
cup Heavy cream or coconut milk
Basmati rice and cilantro for serving (optional)
Instructions
---
Step 1
Cut the chicken into bite sized pieces. Marinate with 1 tablespoon of masala paste and the yogurt for at least 30 minutes (or up to 4 hours) in the refrigerator.
Step 2
Once marinating is complete, melt butter in a large, deep skillet over medium high heat and add the remaining masala paste. Allow to fry for 1 minute, then add onion, garlic and ginger.
Step 3
Add the chicken/yogurt mixture and sauté until the chicken is nearly cooked.
Step 4
Lastly, add the tomato puree and cream/coconut milk and allow to simmer for 15 minutes or until sauce thickens and chicken is thoroughly cooked. Season with salt, as desired.
Step 5
Warm tortillas for 10-15 seconds on each side in an ungreased pan. On each tortilla, lay a small bed of rice and top with chicken tikka masala mixture. Sprinkle with cilantro for garnish, if desired.
---