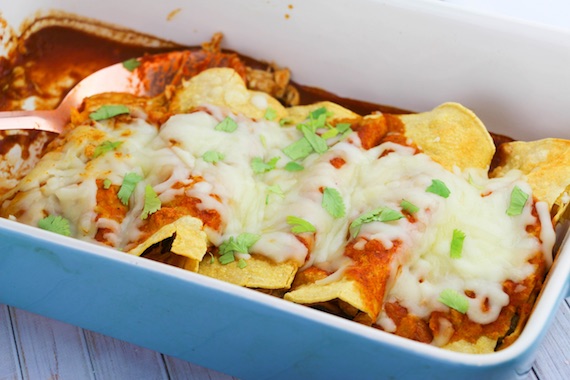 Featured Product
---
Ingredients
---
16
Mission Extra Thin Yellow Corn Tortillas
1
lb Boneless, skinless chicken breasts (approx 3)
3
cups Red enchilada sauce
1
tsp Chipotle pepper (ground)
1
cup Queso fresco, crumbled
Chipotle hot sauce, to taste
4
cups Shredded cheese of choice
Sour cream, optional garnish
Cilantro, optional garnish
Instructions
---
Step 1
Step 2
Place chicken in a stockpot or dutch oven. Add the enchilada sauce, adobo seasoning and chipotle pepper. Heat over medium-low heat for 20-30 minutes, stirring occasionally, until the chicken reaches an internal temperature of 165F and shreds easily when pierced with a fork.
Step 3
To shred the chicken, you can use two forks or an electric mixer. For safety (no hot splattering sauce), remove the chicken from the stockpot and place in a large bowl for the shredding process.
Step 4
Once the chicken is shredded, combine with 1/2 cup of the enchilada sauce it was cooked in, queso fresco, green chiles and chipotle sauce. Season with more adobo and chipotle pepper, if desired.
Step 5
Place the Mission Extra Thin Yellow Corn Tortillas on a baking sheet and lightly coat (or spray) with oil.
Step 6
Heat tortillas for 2 minutes to make pliable. (Do not over bake or you will end up with tostadas.)
Step 7
Working quickly, place the warmed tortillas on a clean surface and add 2 Tablespoons of the enchilada filling to each. Roll and place in the two baking dishes. Each dish should have approximately 8 rolled enchiladas.
Step 8
Pour 1/2 to 1 cup of enchilada sauce over each baking dish full of enchiladas and sprinkle on two cups of cheese per dish. Cover each dish with tin foil.
Step 9
Increase the oven temperature to 450F and when fully heated, bake the enchiladas for 10 minutes, then remove the tinfoil and bake for an additional 3 minutes to melt the cheese.
---