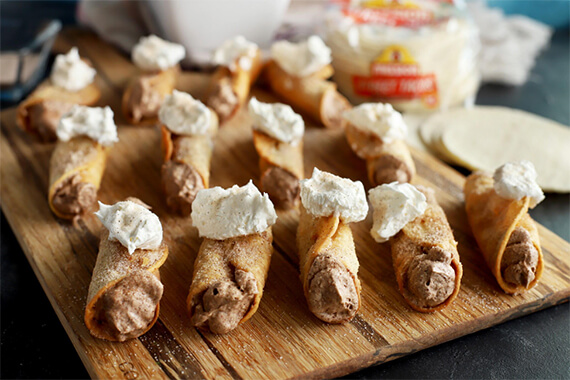 Churro Cheesecake Taquitos
Our Churro Cheesecake Taquitos recipe is carefully crafted to make your next meal time extraordinary. Get the step by step instructions to make this delicious dish.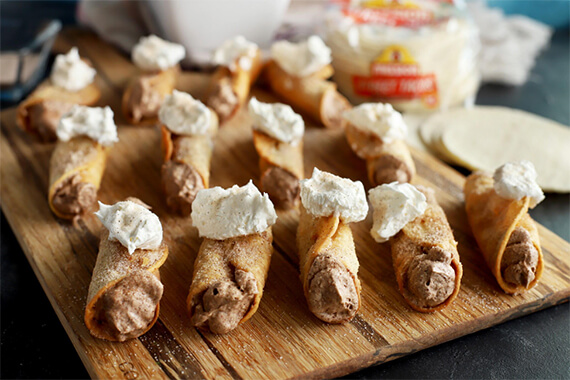 Featured Product
---
Ingredients
---
16
Mission Street Tacos White Corn Tortillas
CINNAMON SUGAR INGREDIENTS:
1
cup Heavy whipping cream, chilled
8
oz. Cream cheese, softened
Instructions
---
Step 1
Heat about 1 1/2 to 2 inches of canola oil in a large saucepan over medium-high heat until it reaches 350℉.
Step 2
In a small bowl, combine and stir together sugar and cinnamon for cinnamon sugar mixture until combined. Set cinnamon sugar aside.
Step 3
When ready to fry, warm the tortillas in the microwave for about 10 to 15 seconds, until soft and pliable. Roll each tortilla up and secure in place with a toothpick.
Step 4
Fry the tortillas in batches in the hot oil, about 3 to 4 at a time, frying until golden brown and crisp. This will take about 3 to 5 minutes per batch. Repeat with remaining tortillas.
Step 5
Remove fried tortilla shells to a plate lined with paper towels. Sprinkle cinnamon sugar over the freshly fried tortillas. Set aside to cool at room temperature.
Step 6
In a medium bowl, whisk together cinnamon, powdered sugar, vanilla extract, and heavy whipping cream until well-combined. Set aside.
Step 7
Place cream cheese in the bowl of a stand mixer fitted with the paddle attachment. Beat cream cheese until light and fluffy, about 3 to 5 minutes.
Step 8
Pour in cinnamon cream mixture into the cream cheese and beat until just combined.
Step 9
Add cream cheese mixture to a pastry bag and pipe into cinnamon sugar-coated fried tortillas, filling from both sides until the filling comes to the edges.
Step 10
Garnish with a dollop of whipped cream on each taquito and sprinkle with remaining cinnamon sugar.
Special Note:
If you have extra filling leftover, serve it up alongside some Mission Thin & Crispy Tortilla Chips as a dessert dip!
---