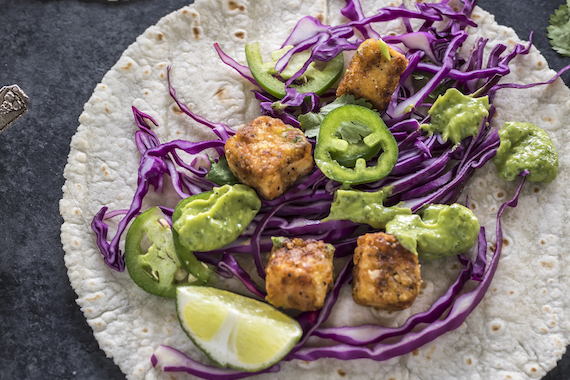 Crispy Tofu Tacos with Avocado Lime Crema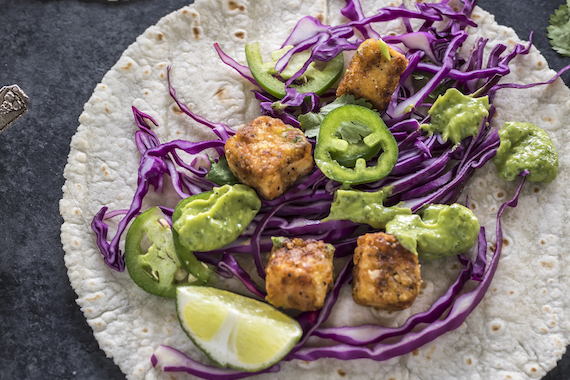 Featured Product
---
Ingredients
---
5
Mission Gluten Free Soft Taco Flour Tortillas
2
Tbsp milk of choice (optional)
8
oz Extra-firm tofu, cut into cubes
Jalapeños, cut into rounds
Instructions
---
Step 1
Press the extra-firm tofu with a heavy object for around 20 minutes to get of excess moisture.
Step 2
Meanwhile make the avocado lime crema. To a food processor or blender, add avocado, cilantro, salt, black pepper and lime juice.
Step 3
Pulse to combine everything together. Adjust the consistency of crema at this point. You may add couple of tablespoons of milk to dilute it. Set it aside.
Step 4
Once 20 minutes are up, dab any excess moisture on the tofu with a kitchen towel and then cut it into cubes.
Step 5
Transfer tofu cubes to a large bowl and toss with salt, black pepper, cumin powder and smoked paprika.
Step 6
Add cornstarch to the bowl and then toss to combine until the tofu cubes are well coated with the cornstarch.
Step 7
Heat oil in a non-stick pan on medium heat. I used my well seasoned cast iron pan. Once the oil is hot, place the tofu cubes in a single layer on the pan.
Step 8
Cook the tofu turning sides, until crisp and golden brown from both the sides. This will take few minutes.
Step 9
Warm the tortillas (best served warm) and then top with crispy tofu, shredded red cabbage, sliced jalapeños, cilantro, lime wedges and finally finish it off with a nice drizzle of the avocado lime crema.
---