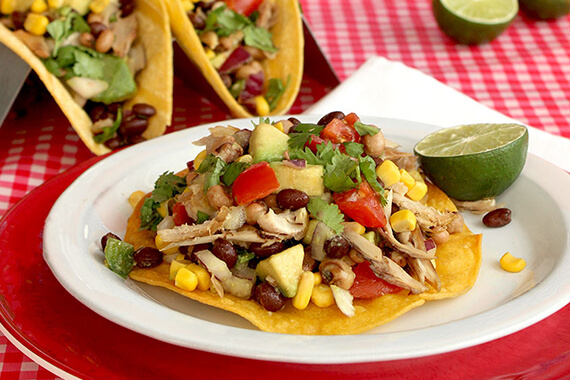 Featured Product
---
Ingredients
---
1
package Mission Yellow Corn Tortillas
4
Chicken breasts, cooked & shredded
½
cup Cherry tomatoes, quartered
½
Green bell pepper, diced
¼
cup Lime juice, freshly squeezed
Instructions
---
Step 1
Place the corn, blackeye peas, black beans, cherry tomatoes, bell peppers, onion and cilantro together in a bowl; mix to combine.
Step 2
In a separate bowl, whisk together olive oil, lime juice, honey, chili powder and salt and pepper.
Step 3
Pour the dressing over the mix, cover and place the Cowboy Caviar in the fridge.
Step 4
Place 1/2 cup vegetable oil in a sauté pan and heat on low, gradually increasing the heat over time to medium high. To test the oil, place a drop of water in the center and if it pops, the oil is ready. Use tongs to place a single Mission Yellow Corn Tortilla in the oil, allowing it to fry for 15-20 seconds per side (depending on how hot your oil is it may be more or less).
Step 5
Top the deep fried tortilla with the shredded chicken, followed by the Cowboy Caviar.
---