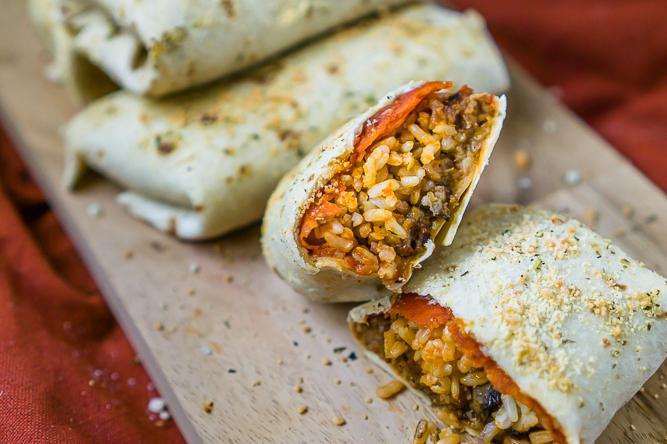 Featured Product
---
Ingredients
---
10
Mission Super Soft Flour Tortillas
1 ½
cups marinara or pizza sauce
8
ounces mushrooms, thinly sliced
½
cup fresh spinach, thinly sliced
½
cup spinach, thinly sliced
2
cups brown rice, cooked
3
tablespoons butter (melted)
1
teaspoon Italian seasoning
grated parmesan (sprinkle desired amount on each)
Instructions
---
Step 1
Cook your Italian sausage thoroughly, crumbling it into small pieces.
Step 2
Heat 1 or 2 tortillas at a time for 20-30 seconds, making them easier to work with. Then, later about 2 tablespoons of marinara sauce, 6 slices of pepperoni, 2 tablespoons of brown rice, 2 tablespoons of Italian sausage, sliced spinach and mushrooms, and 2 tablespoons of mozzarella cheese. **approximate measurements per tortilla.
Step 3
Roll up your burrito and place seam down in a baking dish. Repeat until all are prepped.
Step 4
When ready to bake, preheat oven to 350 degrees. Mix your melted butter, Italian seasoning and garlic powder and brush onto the tops of the prepared burritos with a pastry brush. Then sprinkle with desired parmesan cheese.
Step 5
Bake for 15-20 minutes and enjoy!
---