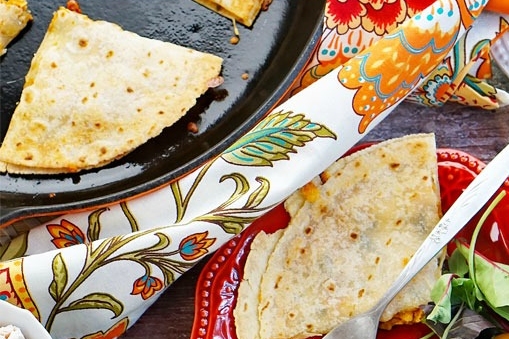 Easy BBQ Chicken Quesadillas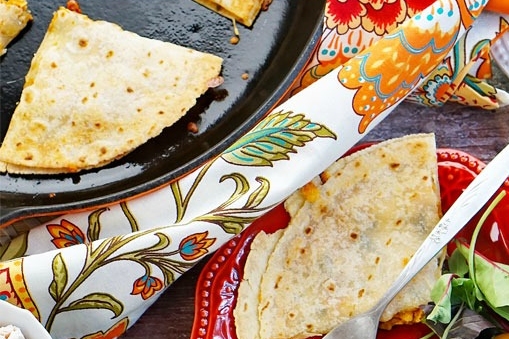 Featured Product
---
Ingredients
---
2
Mission Gluten Free Tortillas
1 ½
tablespoons gluten free barbecue sauce
¼
cup chopped rotisserie chicken
½
cup shredded pizza blend or mozzarella cheese
6
fresh basil leaves, finely chopped
Instructions
---
Step 1
Preheat oven to 350 degrees. Place an oven safe skillet in the oven for 10 minutes until heated through.
Step 2
While skillet is heating, chop chicken. Add 1 tablespoon of barbecue sauce to chicken and mix thoroughly. Set aside.
Step 3
Add finely chopped basil to shredded cheese. Mix thoroughly and set aside.
Step 4
Remove heated skillet from oven and set on a trivet. Lightly spray with cooking spray. Place 1 Mission Gluten Free Tortilla in skillet. Evenly sprinkle half of cheese on tortilla. Then spread chicken on top of cheese and remainder of cheese.
Step 5
Take second tortilla and brush one side with remaining barbecue sauce. Place sauce side down on top of cheese layer. Place skillet back in oven for 5 minutes.
Step 6
Remove skillet from oven. Carefully flip quesadilla. Place skillet back in oven and cook quesadilla for another 5 minutes until golden brown.
Step 7
Remove skillet from oven. Cut quesadilla into four pieces. Serve with a side salad.
---