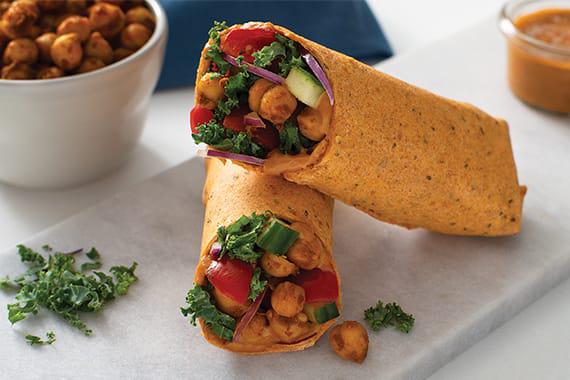 Easy Chickpea Shawarma Wraps
Shawarma. Need we say more? Okay, how about vegetarian shawarma. Now there's something you don't hear everyday. Shawarma lovers. Veggie lovers. From a homemade spice blend to fresh kale and tomatoes, this Chickpea Shawarma Wrap recipe has something for everyone, all bursting from a warm Mission Sundried Tomato Basil tortilla. Oh yeah, and did we mention it only takes 15 minutes to make?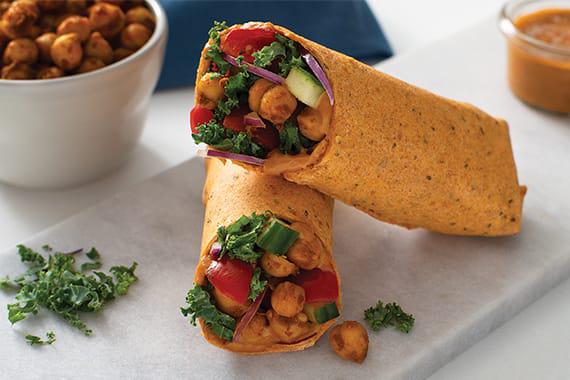 Featured Product
---
Ingredients
---
6
Mission Carb Balance Sundried Tomato Basil Wraps, warmed
2
cups Chickpeas, drained and rinsed
¼
cup Sundried tomato pesto
12
Cherry tomatoes, quartered
⅓
cup Red onion, thinly sliced
Instructions
---
Step 1
Heat oil in large skillet set over medium heat; cook chickpeas, garlic, cumin, coriander, smoked paprika, ¼ tsp. salt, pepper, turmeric and cinnamon for 8 to 10 minutes or until chickpeas are toasted and fragrant.
Step 2
Whisk together pesto, lemon juice, tahini paste, remaining salt and 2 tbsp. water until smooth.
Step 3
Warm tortillas according to package directions. Arrange kale evenly down the center of each tortilla, leaving a 1-inch border at both ends. Top with chickpeas, tomatoes, cucumber and red onion. Drizzle with tahini mixture.
Step 4
Fold up bottom of tortilla over filling; fold in sides and roll up tightly starting from the bottom.
---