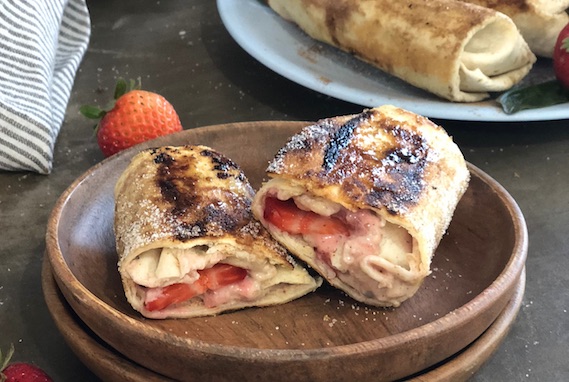 Featured Product
---
Ingredients
---
8
Mission Soft Taco Flour Tortillas
1
package Cream cheese, softened
16
Strawberries, fresh (about 1 pint)
Instructions
---
Step 1
Beat everything but the tortillas, strawberries, vinegar, and oil together.
Step 2
Remove the tops and slice the strawberries.
Step 3
Spread about 1/4 cup cream cheese mixture on the center of the tortilla.
Step 4
Top with 2 sliced strawberries.
Step 5
Roll up into a burrito (fold in the sides about 1 inch, then bring the bottom up and around, tucking it under. And then the top around, tucking under.)
Step 6
Heat 2 tablespoons olive oil on a large skillet on the stove on medium heat.
Step 7
Meanwhile, mix the oil and vinegar together.
Step 8
Add the burritos to the hot pan and brush the tops with the oil mixture.
Step 9
Cook for about 1 minutes on each side on medium-high heat. Watch the temperature, though. They can burn quickly. You want them to get golden brown fairly quickly, without burning.
Step 10
Remove from the pan and sprinkle with sugar. Serve either warm, or cold with fresh whipped cream and basil.
---