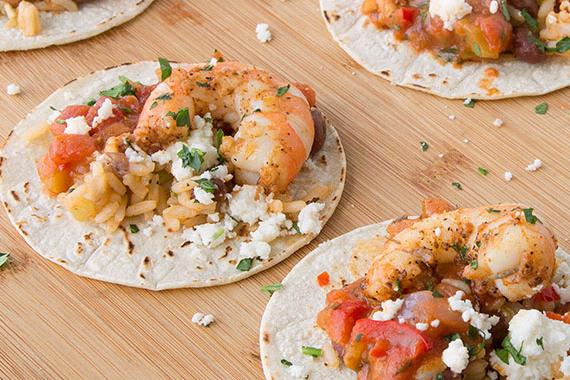 Featured Product
---
Ingredients
---
Mission Street Taco Corn Tortillas
1
pound shrimp (shelled and deveined)
8
ounces diced tomatoes in juice
1
teaspoon cajun seasoning
1
teaspoon smoked paprika
green onions, sliced for garnish
15
ounce red beans canned, drained and rinsed
4
ounces andouille sausage, diced
½
cup bell peppers, diced
1
teaspoon cajun seasoning
Instructions
---
Step 1
Melt the butter in a saucepan over medium heat, cook until it starts to brown and sprinkle in the flour while mixing and simmer until it turns a dark brown. About 10 – 15 minutes.
Step 2
Add the andouille sausage, onion, celery and peppers to the roux and cook until tender, about 8 – 10 minutes.
Step 3
Add the garlic and thyme and cook for a minute.
Step 4
Whisk in the broth. Add the tomatoes and seasoning. Reduce heat and simmer for 20 minutes.
Step 5
Season with hot sauce and sea salt to taste.
Step 6
Mix some seasoning and chopped parsley with the towel dried shrimp.
Step 7
Heat a sauté pan. Add oil and then add shrimp.
Step 8
Sauté the shrimp quickly and cook until just done so they stay moist and tender. You want to get color into the shrimp so its okay if the seasoning burns a little.
Red Beans And Rice
Step 9
Over medium-high heat, sauté onions, celery, peppers and garlic in olive oil for 2-3 minutes. Add seasonings and turn to low heat and continue to sauté for 2 more minutes.
Step 10
Add cooked rice, beans and seasonings. Mix well. Add water or chicken stock if necessary to keep the mixture from sticking to the pan.
---