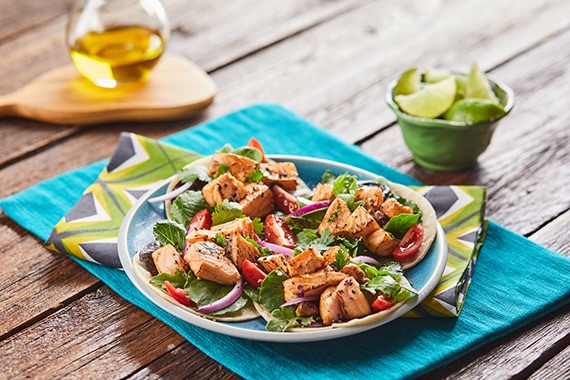 Featured Product
---
Ingredients
---
Mission Street Tacos Corn Tortillas
2
Tbsp Extra-virgin olive oil
¼
cup Fresh squeezed lime and/or orange juice
2
Tbsp Chopped fresh cilantro
1
lb Mahi Mahi (or salmon) filets
Salt and pepper, to taste
Instructions
---
Step 1
To make mojo sauce: Heat up 2 tbsp. olive oil in a small saucepan over medium heat. Add garlic and cook until softened. Stir in the lime/orange juice, cilantro, and salt. Set aside.
Step 2
Prepare grill to medium high heat. Brush fillets thoroughly with coconut oil and season generously with salt and pepper.
Step 3
Lay fish on the grill, rounded-side down, and leave until you can lift the fish without sticking and there are distinct grill marks, about 5 minutes. (Test it by gently lifting a corner—if it sticks, cook it a bit longer and try again). Carefully turn the fish over and cook until firm to the touch, about another 5 minutes. Cut into smaller chunks when cooled.
Step 4
Warm tortillas for 10-15 seconds on each side in an ungreased pan.
Step 5
Place a bed of greens on each tortilla, top with grilled fish and a generous serving of the mojo sauce. Garnish with cilantro sprigs.
---