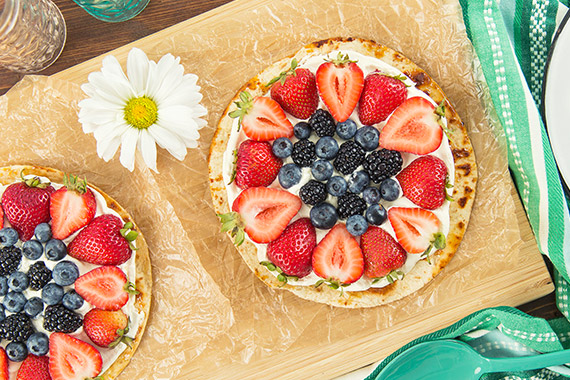 Featured Product
---
Ingredients
---
1
package of Organic Whole Wheat Tortillas
1
container each of strawberries, blueberries and blackberries (organic preferred)
1
container of whipped topping, homemade whipped cream or coconut whipped cream
Instructions
---
Step 1
Heat skillet to medium, and butter both sides of each tortilla. I cooked one at a time in each skillet I had. I recommend warming up any tortilla, they are much tastier.
Step 2
Once the butter is melted, add the sugar, let it cook a little bit, and flip the tortilla. Then sprinkle sugar on the second side and sauté until the sugar begins to melt.
Step 3
Once tortillas are crispy, as shown above, remove them from the skillet and set them on a plate or cutting board. Sprinkle a tiny bit of cinnamon on each tortilla. I used a bit of waxed paper on top of my cutting board to prep and serve the food, which made cleanup a breeze.
Step 4
Add a dollop of whipped topping, and spread it to around ¼" thick or more on top of each tortilla.
Step 5
Slice strawberries in half lengthwise, and keep green parts attached while cutting for a cute presentation. Add about 6 strawberries (cut in half), all around the edges. Place blackberries and then blueberries inside the middle.
---