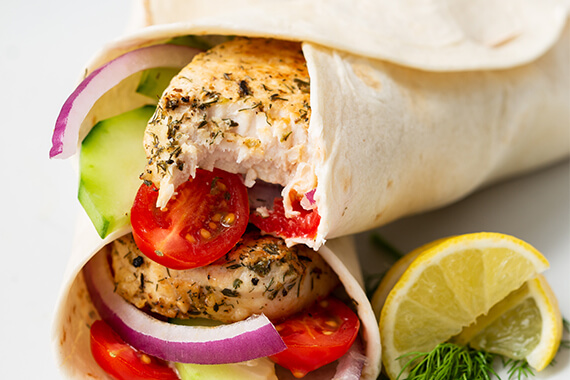 Featured Product
---
Ingredients
---
8
Carb Balance Soft Taco Flour Tortillas
1
cup sliced Grape tomatoes
2
lbs Chicken fresh Dill for garnish
½
tsp each: dried Basil, dried thyme, crushed rosemary, salt
Instructions
---
Step 1
Trim chicken and cut into smaller pieces, about chicken tender size, one inch wide.
Step 2
Mix marinade ingredients in a bowl, and pour into a zipped plastic bag with trimmed boneless, skinless, chicken breasts. Set aside and let marinade for 30 minutes or longer.
Step 3
While chicken is marinating, make the tzatziki and chop the cucumbers, tomatoes, and red onions.
Step 4
Turn your stove top to medium-high, and with a cast iron skillet or grill pan, add olive oil to the skillet.
Step 5
When the oil is hot, add chicken to the pan, and cook 6-7 minutes on each side, until the internal temperature reaches 165 degrees Fahrenheit.
Step 6
Warm Carb Balance Soft Taco Flour Tortillas for a few seconds in a skillet or microwave (optional, but I recommend for best flavor).
Step 7
Spread a Tbsp or so of tzatziki over a Carb Balance Soft Taco Flour Tortilla.
Step 8
Layer on the cucumbers, tomatoes, red onions, and grilled chicken. Then sprinkle with feta and garnish with fresh dill weed, if desired.
Step 9
---