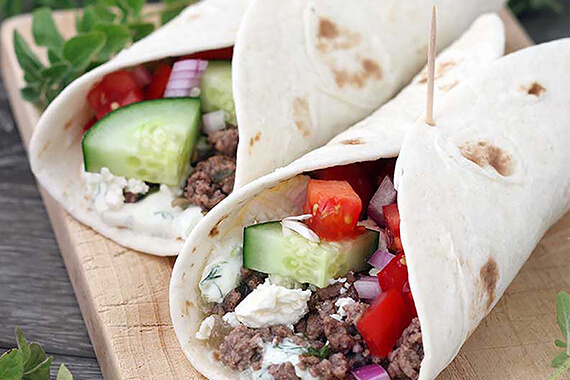 Featured Product
---
Ingredients
---
4
Soft Taco Flour Tortillas
1
small yellow Onion, finely diced
2
Tbsp fresh Oregano leaves, chopped
½
Cucumber, peeled, seeded and grated
1
Tbsp Extra virgin olive oil
1
small Garlic clove, minced
1
Tbsp chopped fresh Dill
1
cup diced fresh Tomatoes
4
ounce crumbled Feta cheese
Instructions
---
Step 1
To cook the lamb: Heat the olive oil in a nonstick skillet and cook the onion over medium-high heat until softened and beginning to brown (about 2 minutes). Add the garlic and oregano and sauté until fragrant (about 30 seconds). Add the lamb and cook completely, breaking it up as you go (about 5 minutes). Season with 1/2 teaspoon of kosher salt and 1/4 teaspoon of black pepper.
Step 2
To make the Tzatziki Sauce: Squeeze as much water out of the cucumber as possible using a clean kitchen towel (see notes). In a small bowl, mix together the yogurt, 1/4 teaspoon kosher salt, 1 tablespoon olive oil, 1 minced small clove of garlic, dill, and lemon juice. Add the cucumbers and stir.
Step 3
To assemble the tacos: Spread 1/4 cup of the tzatziki sauce on each tortilla, followed by 1/4 of the lamb mixture, and the diced cucumber, fresh tomatoes, and red onion divided evenly. Finish with 1 oz. of crumbled feta on each taco.
Step 4
Serve immediately, wrapped in foil or held together with a toothpick if desired.
---