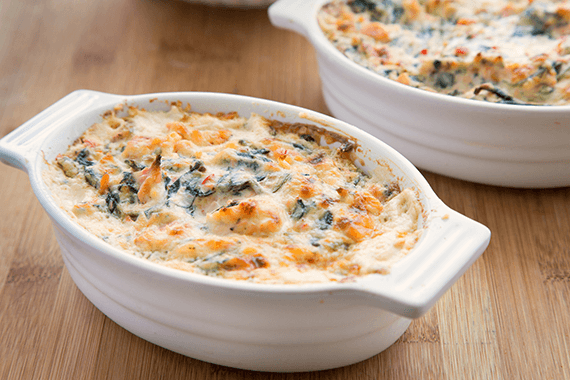 Featured Product
---
Ingredients
---
Mission Strips Tortilla Chips
½
cup sharp Cheddar cheese, shredded
Instructions
---
Step 1
Preheat oven to 400 degrees and preheat gas or charcoal grill to 400 degrees.
Step 2
Soak cedar plank for 1 – 2 hours before using.
Step 3
Place salmon on a soaked plank and season well with your favorite seasoning blend. Place planked salmon directly on the grill and close the lid. Allow to cook for 8-10 minutes. *Cooking times may vary depending on your grill.
Step 4
Add the spinach to a large sauté pan with a half a cup of water and begin cooking over medium-high heat. Use tongs to move the spinach around until it wilts and starts to release water. Once fully cooked remove the spinach from the pan and squeeze as much water as possible from the spinach. (Allow the spinach to cool before squeezing out the water)
Step 5
Break apart the cooled salmon by hand, creating nice pieces of flaky cooked salmon.
Step 6
In a mixing bowl with an electric mixer, beat cream cheese until smooth.
Step 7
Add mayo, sour cream, horseradish, sea salt and black pepper and continue beating until well-combined.
Step 8
Add the remaining ingredients and fold in with a rubber spatula. Taste and re-season if necessary.
Step 9
Bake until the top is brown and the dip is bubbling all over, about 20-25 minutes. Remove and let cool slightly before serving.
Step 10
Serve with Strips Tortilla Chips and enjoy.
---