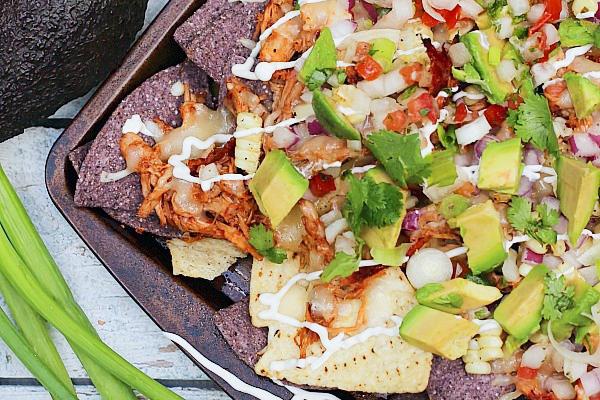 Grilled Pulled Pork Sheet Nachos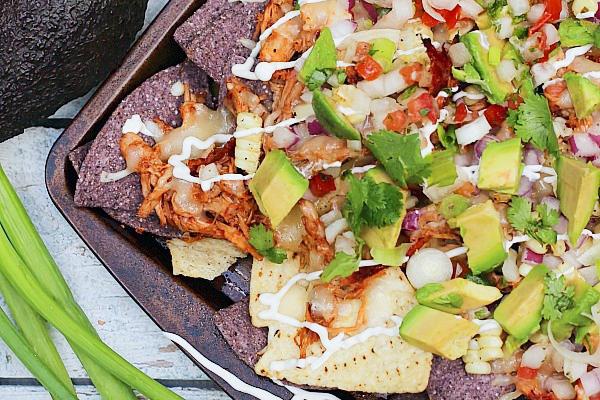 Featured Product
---
Ingredients
---
Mission Organics Blue Corn Tortilla Chips
Mission Organics White Corn Tortilla Chips
2
tablespoons of BBQ sauce
1
cup of freshly shredded smoked mozzarella cheese
½
cup of red onions, diced
½
cup fresh pico de gallo
¼
cup of green onions, diced
¼
cup of freshly torn cilantro
Instructions
---
Step 1
Grill pork for approximately 25 minutes on each side until it has reached an internal temperature of about 160 degrees. Once ready, take off grill and let rest for about 10 minutes.
Step 2
Shred pork and mix with BBQ sauce. Shred cheese and prepare the rest of the fresh ingredients.
Step 3
Spread chips onto a sheet pan and top with grilled pulled pork.
Step 4
Sprinkle grilled corn, shredded cheese and diced purple onions on top.
Step 5
Place sheet pan into the oven on 350 degrees for about 8-10 minutes.
Step 6
Remove from oven and add toppings. Drizzle sour cream over top and sprinkle pico de gallo, avocado, green onions and cilantro.
---