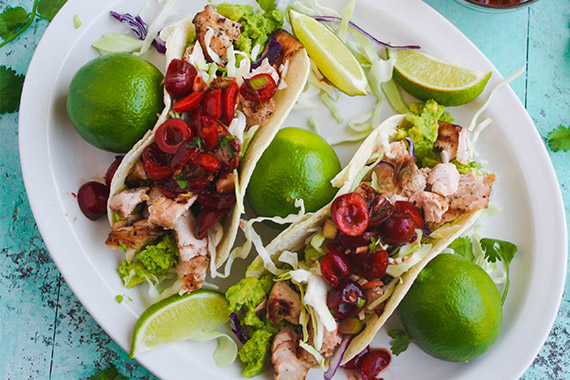 Featured Product
---
Ingredients
---
4
Organic White Corn Tortillas
1
cup fresh cherries, pitted with half the cherries sliced in half and the remaining quatered
1
chipotle pepper in adobo sauce, diced
2
tbsp adobo sauce, to taste
¼
tsp ground black pepper
2
tbsp fresh cilantro, torn
¼
tsp ground black pepper
fresh cilantro leaves to garnish
Instructions
---
Step 1
Combine all the ingredients in a bowl, toss gently, and taste. Adjust the seasonings as needed.
Step 2
Refrigerate until ready to use.
Step 3
Lightly coat the grates of a grill with nonstick cooking spray or oil. Preheat the grill to medium-high heat.
Step 4
Rub the oil over both sides of the salmon. Squeeze the lemon juice over the fleshy side, then season with salt and black pepper.
Step 5
When hot, cook the salmon, skin-side-down for 8 minutes. Carefully flip and cook for another 6 minutes. Remove from the heat.
Step 6
Use a fork to break the salmon into 4-inch chunks, removing it from the skin.
Step 7
Evenly divide the mashed avocado among the tortillas and spread it across the bottom center of each.
Step 8
Divide the salmon chunks and add over the avocado. Divide the cabbage and sprinkle over each taco.
Step 9
Top each with a few spoons of the salsa and garnish with cilantro.
---