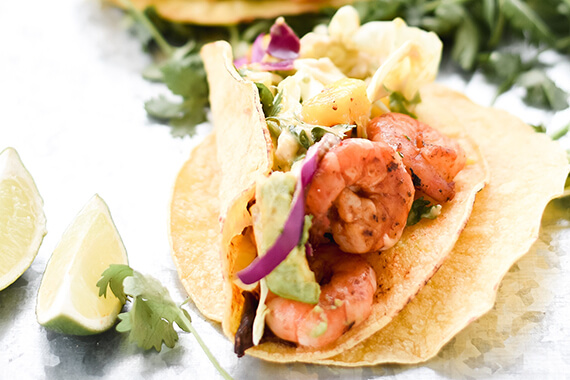 Grilled Spicy Shrimp Tacos with Avocado Mango Salsa and Chipotle Mayo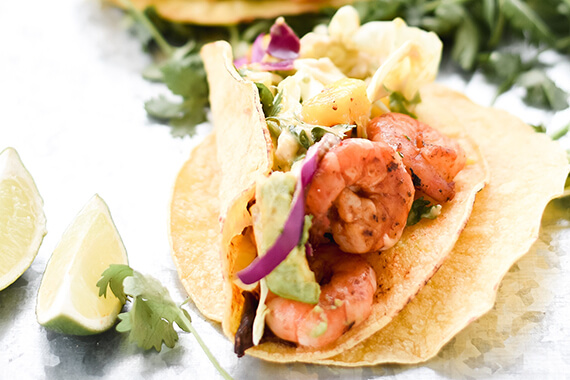 Featured Product
---
Ingredients
---
10
Mission Extra Thin Yellow Corn Tortillas
1
7-oz can Chipotle peppers in adobo sauce
½
small head Green cabbage
½
small head Purple cabbage
¼
cup chopped fresh Cilantro
Instructions
---
Step 1
Pour the can of chipotle peppers into a medium bowl. Take out two peppers and one tablespoon of the sauce from the can and place those into a food processor.
Step 2
Add the raw shrimp to the medium bowl of the chipotle peppers. To the shrimp bowl, add a pinch of salt and a pinch of pepper. Add in the cinnamon and thyme. Toss to coat the shrimp. Allow the shrimp to marinate for at least 30 minutes.
Step 3
Make the Chipotle Mayo: Add one cup of mayonnaise and the juice from half a lime into the food processor with the two peppers and one tablespoon of sauce. Puree the mixture and season with salt and pepper to taste.
Step 4
Slice the green cabbage and purple cabbage into thin slices. Place the slices into a bowl and toss the slices to mix.
Step 5
Make the Avocado Mango Salsa: Slice two mangos and two avocados into small chunks and place into a small bowl. Squeeze the juice from one lime into the bowl with the mango and avocado chunks. Add in the chopped cilantro leaves. Toss to coat. Season with salt to taste.
Step 6
Turn on the grill and keep it at medium heat. Place the shrimp on skewers and put the skewers on the grill. Grill for a few minutes on one side and then flip the skewers to grill the other side of the shrimp. Remove the skewers from the grill once the shrimp are fully cooked, take the shrimp off of the skewers, and place the shrimp into a bowl.
Step 7
Place the corn tortillas on the grill to warm them and slightly char them. Remove the corn tortillas from the grill and place them onto a plate.
Step 8
Assemble your tacos: Take one corn tortilla and form it into a taco shape. Place a few grilled shrimp along the bottom, top the shrimp with the sliced cabbage, top the cabbage with the Avocado Mango Salsa, and then top the taco with Chipotle Mayo.
---