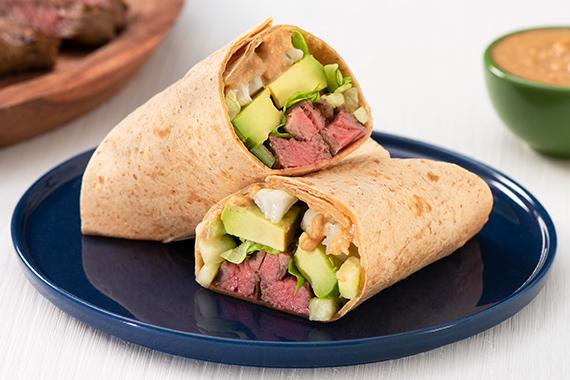 Featured Product
---
Ingredients
---
4
Mission Protein Tortilla Wraps, warmed
2
Strip Loin Steaks (8 oz. each)
1 ½
cups Cauliflower florets, cooked, small
1
cup Bibb lettuce, shredded
1
Avocado, ripe, halved, pitted, peeled and sliced
----------------------------------------------
----------------------------------------------
Instructions
---
Step 1
Marinade Steaks: Toss together steaks, soy sauce, lime juice, oil, garlic and ginger; let stand for at least 10 minutes or up to 4 hours.
Step 2
Preheat grill to medium-high heat; grease grate well. Remove steak from marinade and shake off excess. Grill steak for 4 to 5 minutes per side for medium-rare or until cooked as desired. Let stand for 10 minutes. Slice thinly across the grain.
Step 3
Make peanut sauce by stirring together peanut butter, hot water, lime juice, soy sauce and garlic.
Step 4
Heat tortillas according to package directions. Top each tortilla with steak, leaving 1-inch border all around. Top with cauliflower, lettuce, cucumber and avocado. Drizzle with peanut sauce. Roll into a wrap and enjoy!
---