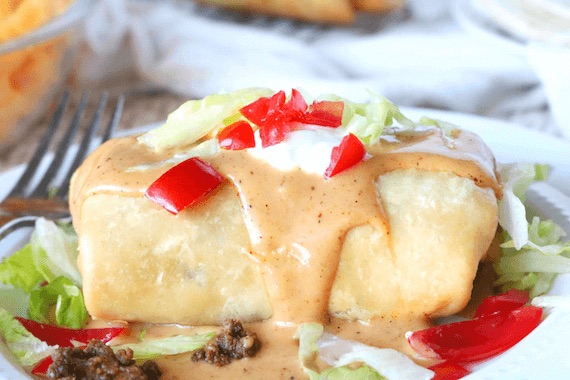 Beef Chimichangas Recipe
Our chimichangas recipe is filled with ground beef, cumin, chili powder, salt, paprika, pepper, and vegetables. Follow the step by step instructions and this beef chimichanga recipes is sure to be a family favorite.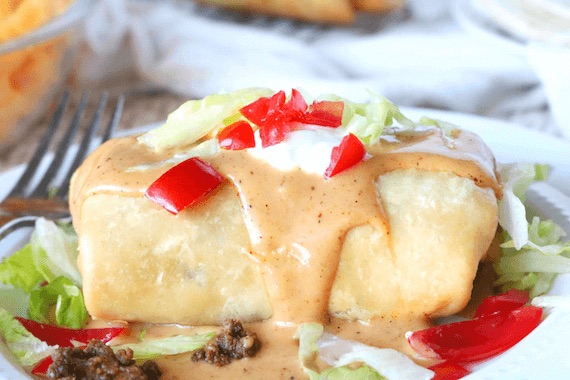 Featured Product
---
Ingredients
---
12
Mission Soft Taco Flour Tortillas
4
cups plus 2 Tbsp canola oil, separated
4
Large jalapeños, seeded and diced
1 ½
cup Freshly grated cheddar cheese
Instructions
---
Step 1
Have ready a colander situated over a large bowl.
Step 2
In a large skillet, heat the oil over medium-high heat. Add the jalapeño and onion, and sauté until softened, 6-8 minutes.
Step 3
Scatter the ground beef across the skillet. Add the cumin, chili powder, salt, paprika, and pepper, and continue to break up the beef with a wooden spoon or spatula, mixing it in with the vegetables. Continue to cook for 10 minutes, or until the beef is no longer pink and fully cooked through. Add the lime juice and stir.
Step 4
Carefully transfer the beef mixture to the colander and allow the excess grease to drip down into the mixing bowl.
Step 5
Remove the beef from the colander and discard of the excess grease. Transfer the beef to a mixing bowl, and stir in the Cheddar cheese. Set aside until ready to use.
Step 6
Wrap 6 flour tortillas at a time in damp paper towels and microwave on a plate for 1 minute.
Step 7
Add a generous spoonful of the beef and cheese mixture to the center of the tortilla. Fold over both ends, then (keeping the ends tucked) roll into a burrito, and place seam-side down. Repeat until all of the filling has been used.
Step 8
Clean out the skillet (or use another large skillet — preferably cast iron) and place on the stovetop. Add the Canola oil to the skillet and increase the heat to medium-high. Allow the oil to reach between 350°-375°.
Step 9
Gently add the chimichanga to the grease seam-side down, and using a pair of tongs, hold it in place for about 15 seconds. Fry for 30 seconds to 1 minute on each side, or until the chimichanga is golden in color. Set aside on a plate lined with paper towels, and repeat with remaining chimichangas.
---