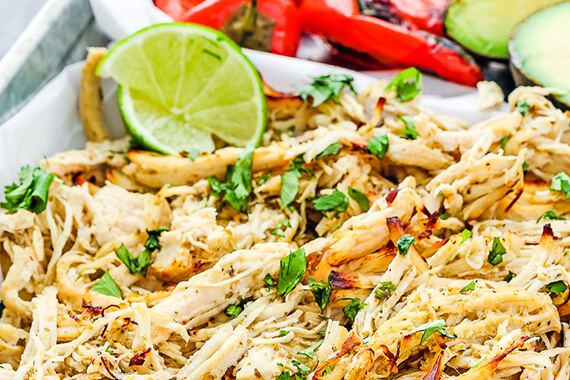 Featured Product
---
Ingredients
---
12
Mission Organics White Corn Tortillas
4
Boneless, skinless chicken breasts
1
Tbsp Grated orange peel
¼
tsp Ground black pepper
¼
cup Chopped fresh cilantro
½
cup Red onion, finely diced
Instructions
---
Step 1
Place chicken breasts in the instant pot.
Step 2
In a small bowl whisk together all mojo ingredients. Pour mojo over the chicken.
Step 3
Secure the lid to the instant pot and set for 20 minutes on "Poultry" mode.
Step 4
When the time is over, let the pressure release on its own, this will take about 8-10 minutes. If you are short on time you can also do a quick release, just carefully open the valve and allow the steam to release. Carefully turn the vent to "Venting," just to release any extra pressure that might still be in there. Then remove the lid.
Step 5
Shred the chicken with two forks.
Step 6
To crisp up mojo chicken: Preheat oven broil. Transfer shredded chicken, with all the juices, to a large baking sheet. Broil for 5 – 8 minutes, or until the edges of the chicken are brown and crispy.
Step 7
Sprinkle with chopped fresh cilantro. Serve immediately in tacos with chopped onion and sliced avocado, or store for later use.
---