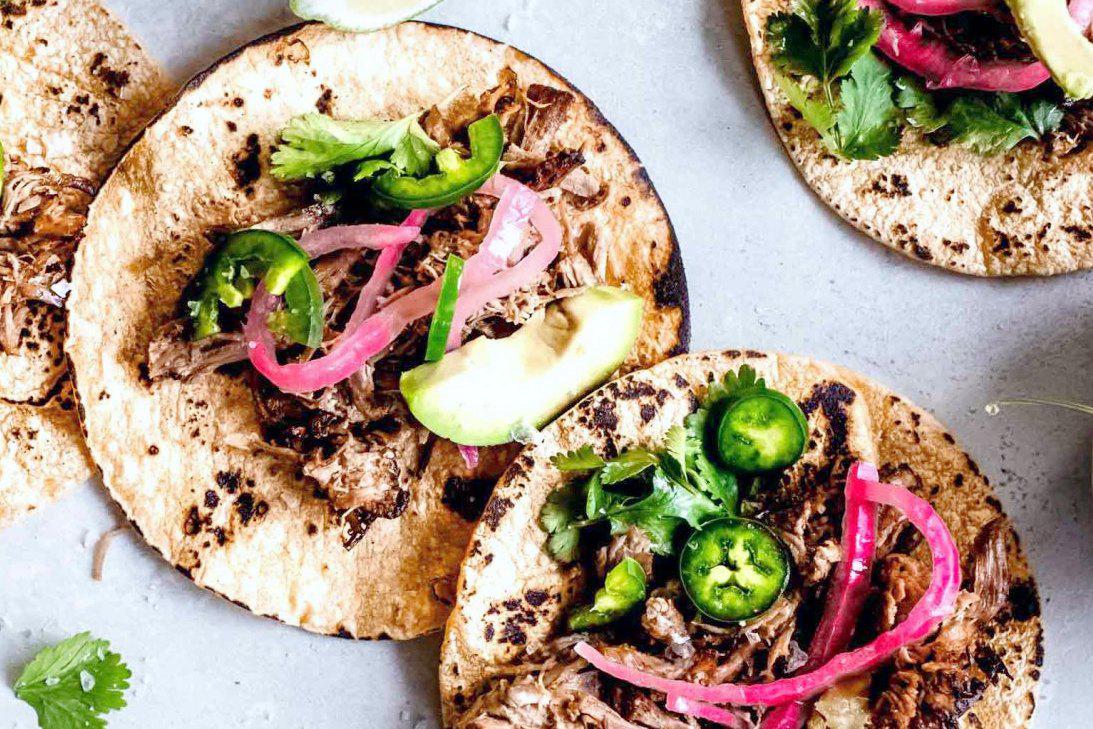 Featured Product
---
Ingredients
---
Mission Organics White Corn Tortillas
6
pounds pork shoulder, slightly trimmed of excess fat and cut into 2" cubes
1
tablespoon ground cumin
2
teaspoons dried oregano
1
teaspoon ground coriander
2
oranges, sliced in half
1
red onion, halved and thinly sliced
½
cup apple cider vinegar
¼
cup lime juice, freshly squeezed
pinch crushed red pepper flakes
Instructions
---
Step 1
Combine garlic salt, chili powder, dried oregano, dried basil, cumin, ground coriander, brown sugar and sweet paprika.
Step 2
Rub the spice mixture evenly over the pork pieces and place in Instant Pot. Squeeze juice from oranges and limes over the pork. Place rinds pulp side down in Instant Pot and add 1 cup water.
Step 3
Make sure sealing ring is in place on the lid. Lock the lid onto Instant Pot and set the steam release knob to the 'sealing' position. Press the 'manual' button and set Instant Pot for high pressure for 40 minutes. It will take about 10 minutes for Instant Pot to come to full pressure, then the display will show a countdown timer.
Step 4
After 40 minutes, allow pressure to release naturally for 15 minutes, then release any remaining pressure. Open the lid.
Step 5
Preheat oven broiler. Shred the pork using two forks then use a slotted spoon to remove the pork and place on a baking sheet. Taste for saltiness and add as you see fit.
Step 6
Place underneath broiler until tips of pork are browned and slightly crisp, about 3-5 minutes.
PICKLED ONIONS
Step 7
Add sliced onions to a medium bowl. Pour enough boiling water over them to fully cover and count to 10. Drain onions and place in jar or bowl.
Step 8
Heat vinegar, lime juice, 1/8 cup sugar, chili flakes and salt in small saucepan over medium heat until sugar has dissolved, about 3 minutes.
Step 9
Taste for sweetness and add more sugar as needed.
Step 10
Pour vinegar mixture over onions. Allow to stand at room temperature until fully cooled. Cover and refrigerate up to 2 weeks.
ASSEMBLE
Step 11
Warm tortillas in oven. Place carnitas in tortillas and serve topped with sliced avocado and cilantro.
---