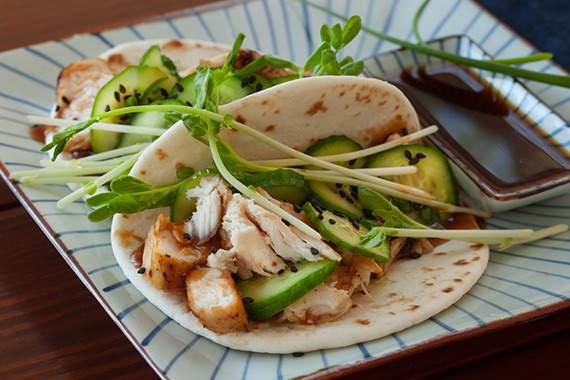 Featured Product
---
Ingredients
---
Mission Street Tacos Flour Tortillas, warmed
1
lb Boneless skinless chicken tenders
1
Tbsp Black sesame seeds
Pea shoots (optional) for garnish
Instructions
---
Step 1
To make pickled cucumber salad: Combine sliced cucumbers with rice vinegar, water, black sesame seeds and scallions. Let sit for an hour or more depending on desired pickling.
Step 2
In a large bowl, marinate chicken in ponzu for at least 30 minutes. If marinating overnight, cover bowl and place in fridge.
Step 3
Preheat oven to 375˚ F degrees.
Step 4
Place marinated chicken in oven safe/cast iron skillet. Roast uncovered for about 30 minutes or until chicken is evenly browned. Tear/dice chicken to bite sized pieces.
Step 5
To make garlic ponzu sauce: in a small sauce pan, heat sesame oil and cook garlic until slightly brown. Add water carefully, ponzu sauce, soy sauce and brown sugar. Stir constantly until sugar dissolves, then set aside to cool slightly.
Step 6
Assemble taco with chicken and a generous amount of garlic ponzu sauce. Add pickled cucumber salad and top with pea shoots. Serve with additional sauce if desired.
---