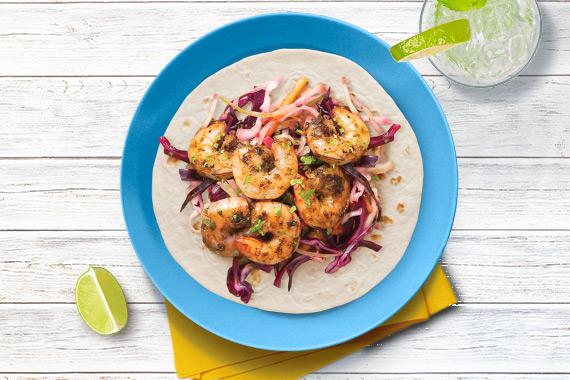 Jerk Shrimp Wraps with Grilled Cabbage and Mango Slaw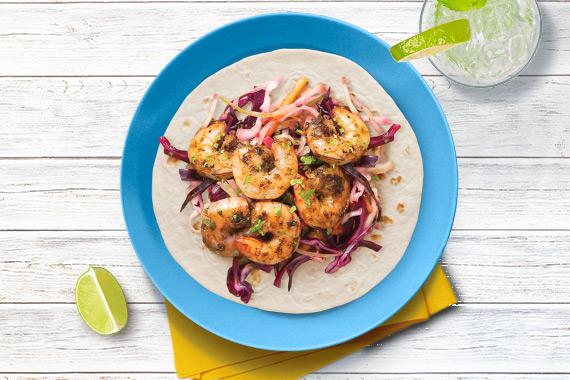 Featured Product
---
Ingredients
---
4
Mission Carb Balance Soft Taco Flour Tortillas, warmed
1
lb. Shrimp, peeled and deveined, tails removed (16 to 20 count)
2
tbsp. Jerk marinade, prepared
¼
Red cabbage, cut into 2 wedges
¼
Green cabbage, cut into 2 wedges
1
Mango, ripe, peeled and sliced
4
Green onions, thinly sliced
2
tbsp. Cilantro, finely chopped
Instructions
---
Step 1
Toss shrimp with jerk marinade; let stand for 5 minutes.
Step 2
Preheat grill to medium-high heat; grease grate well. Grill shrimp for 2 to 3 minutes per side or until grill marked and cooked through.
Step 3
Grill cabbage quarters for 3 to 5 minutes per side or until lightly charred. Let cool slightly; shred cabbage.
Step 4
Toss together cabbage, olive oil, lime juice, ginger, honey, salt, pepper and cayenne pepper. Stir in mango, green onions and cilantro; let stand for 20 minutes.
Step 5
Warm tortillas according to package directions. Spoon grilled shrimp evenly down along the center of each tortilla, leaving 1-inch border all around. Top with cabbage slaw. Fold up bottom of tortilla over filling; fold in sides and roll up tightly starting from the bottom.
---