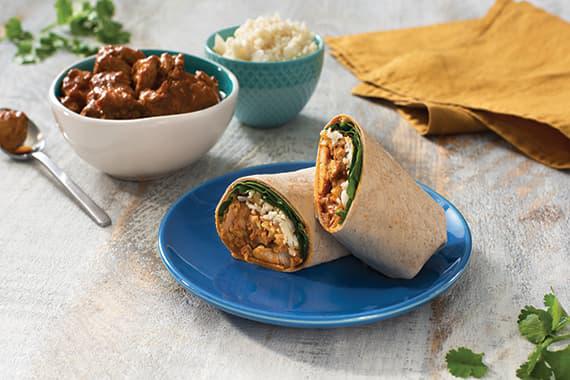 Keto-Friendly Coconut Butter Chicken Wrap
Make the impossible possible with this delicious keto chicken wrap. Who says eating healthy can't be delicious? This recipe within a recipe combines a creamy Indian-inspired coconut butter chicken with a keto-friendly, low carb chicken wrap. We're talking tender chicken, almond butter, coconut milk, spices, and cauliflower rice, all assembled in a fluffy Mission® Carb Balance Whole Wheat Tortilla. It will leave your taste buds wondering why they ever needed bread in the first place.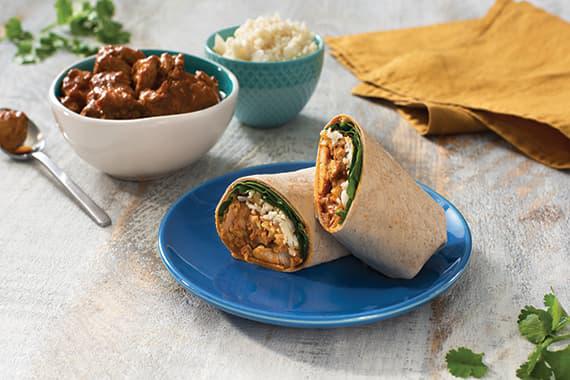 Featured Product
---
Ingredients
---
8
Carb Balance Soft Taco Whole Wheat Tortillas, warmed
2
lbs. Chicken thighs, boneless and skinless, cut into 2-inch pieces
3
tbsp. Coconut oil, divided
1
tbsp. Fresh ginger, minced
½
cup Chicken broth, reduced sodium
Instructions
---
Step 1
Heat 2 tbsp. coconut oil in large skillet set over medium-high heat. Cook chicken, onion, garlic, ginger, salt and pepper for 5 to 8 minutes or until chicken starts to brown. Stir in curry powder and paprika; cook for about 1 minute or until fragrant.
Step 2
Stir in coconut milk, chicken broth, almond butter and tomato paste; bring to boil. Reduce heat to medium; simmer for 5 to 10 minutes or until thickened.
Step 3
Meanwhile, in separate skillet, heat remaining coconut oil over medium-high heat. Cook cauliflower rice with 2 tbsp. water for 3 to 5 minutes or until tender, but not mushy.
Step 4
Warm tortillas according to package directions. Arrange spinach down along center of each tortilla, leaving 1-inch border at both ends. Top with cauliflower rice and coconut butter chicken. Fold up bottom of tortilla over filling, then fold in sides and roll up tightly starting from the bottom.
Tips
Substitute baby kale for spinach if desired. For spicy chicken, add 1/4 tsp cayenne pepper.
---