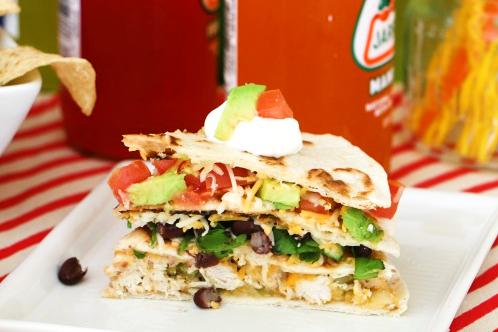 Layered Chicken Black Bean Quesadilla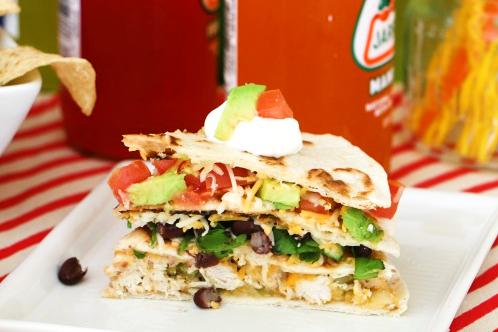 Featured Product
---
Ingredients
---
Mission Super Soft Flour Tortillas
3
boneless, skinless chicken breasts
2 ½
cups Colby jack cheese
1
can black beans, rinsed and drained
Instructions
---
Step 1
In an ungreased pan over medium heat, cook the tortillas for a minute or so on each side until they're lightly crisp. Set aside.
Step 2
In a separate pan, heat olive oil over medium heat then add the chicken breasts. Sprinkle with salt, pepper and cumin, and cook on both sides until chicken is cooked through.
Step 3
Chop or shred the chicken and mix it with the green chiles.
Step 4
In a small bowl, gently toss together the black beans, cilantro and juice from half a lime and set aside.
Step 5
Lay out one tortilla, sprinkle with 1/2 cup of cheese, add the chicken green chile mixture and top with another 1/2 cup of cheese.
Step 6
Add the next tortilla, 1/2 cup of cheese and the black bean mixture.
Step 7
Add another tortilla, more cheese, diced tomatoes and avocados. Top with cheese and the last tortilla.
Step 8
Bake at 350 degrees for 5-7 minutes or until the cheese has melted and the layered quesadilla is warmed through.
---