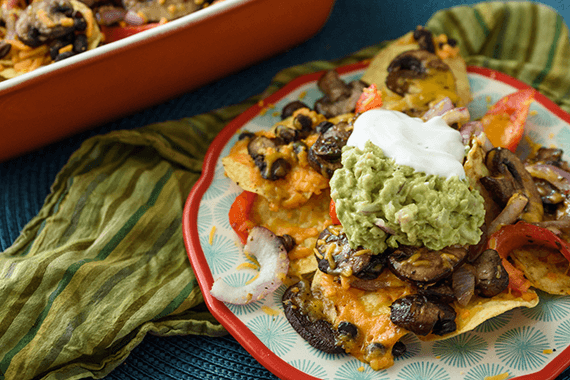 Featured Product
---
Ingredients
---
Mission Rounds Tortilla Chips
15
oz Black beans, drained and rinsed
3
oz Vegan cheddar cheese, shredded
1
Red bell pepper, sliced
5
oz Baby portobello mushrooms, sliced
2
Avocados, peeled and cored
Instructions
---
Step 1
Preheat grill to medium-high heat.
Step 2
Preheat oven to 375 degrees (F).
Step 3
Lay a sheet of aluminum foil out on a cutting board, and spread out the bell pepper slices, mushroom slices, and 2/3 of the onion slices in a single layer.
Step 4
Toss veggies in olive oil and fajita seasoning, coating evenly. Grill veggies over medium-high heat (on the aluminum foil sheet) for 10-12 minutes, or until just softened and starting to brown. Remove from heat.
Step 5
In a large baking dish, spread chips in an even layer. Sprinkle half the cheese on top of the chips.
Step 6
Spread a layer of black beans on top of the cheese. Then, spread the grilled veggies evenly on top. Sprinkle remaining cheese on top of the nachos.
Step 7
Bake in the oven for 5-10 minutes, until cheese is melted.
Step 8
While the nachos are baking, prepare the toppings.
Step 9
Slice the lime in half. In a small bowl, mix the sour cream with the juice and zest of one lime half. Add the cilantro. Mix well, and set aside.
Step 10
In another small bowl, mash the avocado with the back of a fork. Squeeze in the juice from the other lime half. Dice the remaining red onion, and add to the guacamole. Add salt and pepper to taste. (If using the jalapeño – finely dice and add it here.) Mix well, and set aside.
Step 11
Serve nachos topped with the guacamole and cilantro-lime sour cream.
---