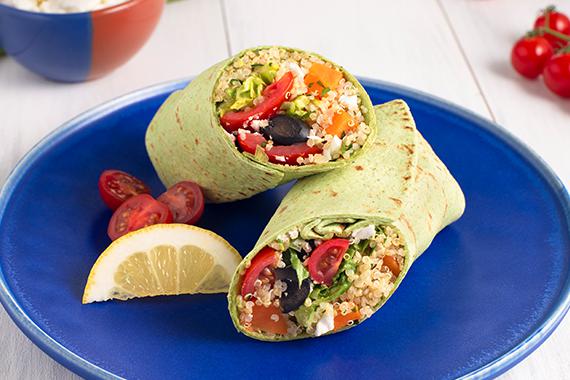 Featured Product
---
Ingredients
---
8
Mission® Carb Balance® Spinach Herb Tortilla Wraps, warmed
1
cup Sweet potato, diced
2
tbsp Parsley, finely chopped
1
cup Cherry tomatoes, halved
½
cup Black olives, pitted and halved
2
Green onions, thinly sliced
⅓
cup Feta cheese, finely crumbled
Instructions
---
Step 1
In saucepan, bring 4 cups salted water to boil and stir in sweet potatoes and quinoa. Reduce heat to medium and simmer for about 15 minutes, or until quinoa and sweet potatoes are tender. Drain well. Return to saucepan. Cover and let stand for 5 minutes; fluff with fork.
Step 2
Stir in olive oil, lemon juice, parsley, garlic, oregano, salt and pepper.
Step 3
Spoon quinoa and sweet potato mixture evenly down the center of each tortilla, leaving a 1-inch border at both ends.
Step 4
Top with lettuce, tomatoes, olives, feta and green onions. Fold up bottom of each tortilla over filling, then fold in sides and starting from bottom, roll up tightly.
Tip
Serve with tzatziki sauce for dipping, if desired.
---