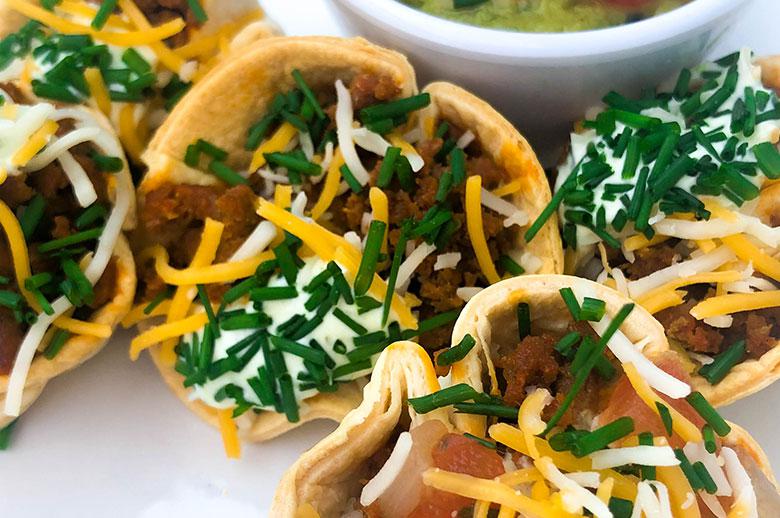 Low Carb Loaded Mini Taco Cups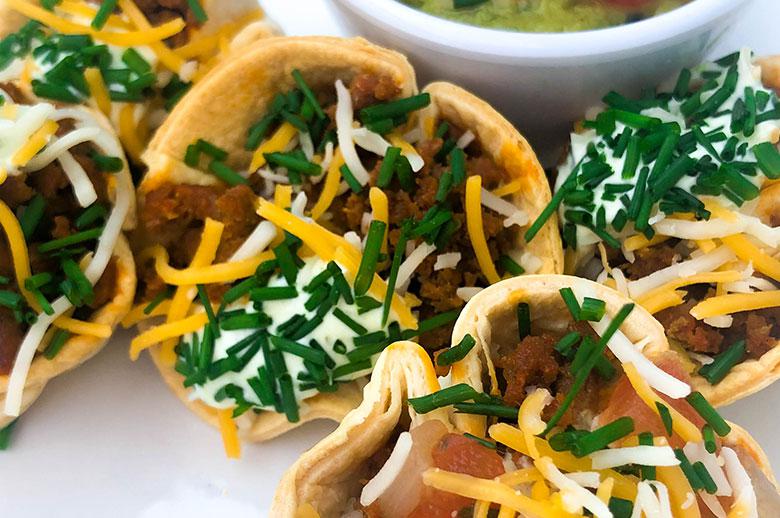 Featured Product
---
Ingredients
---
5
Carb Balance Soft Taco Flour tortillas
1
lb ground turkey or beef
1
packet of taco seasoning
----------------------------------------
3 inch round cookie cutter mini cupcake pan
----------------------------------------
shredded Mexican blended cheese
green onions, for garnish
Instructions
---
Step 1
Preheat oven at 350 degrees.
Step 2
Using the cookie cutter (or ramekin), take one Carb Balance Flour Tortilla and cut out circles. Start from the edges and work in a circle around the edge to use the most surface space and not waste the tortilla. You should be able to get 3 circles from each tortilla with larger scraps to make a 4th.
Step 3
Spray the mini cupcake pan generously with the avocado oil spray.
Step 4
Using the tortilla rounds, push each round into the cupcake pan, pressing into the center to get it as flat as possible. The sides will bend slightly just press into the pan to form a makeshift cup.
Step 5
After all the full rounds are done, collect three larger scraps and layer them in a circle in the pan to make additional cups. 5 carb balance tortillas should give you around 20 cups to work with.
Step 6
After all the cups have been formed, spray the tortillas generously with the avocado oil spray to help crisp them in the oven.
Step 7
Place pan in the oven and set a timer for about 13-15 minutes, until golden brown.
Step 8
While the tortillas are cooking, in a medium sized pan on medium high heat, put the ground turkey or beef into the pan. Using a fork or masher, mash the meat until it's broken apart in smaller chunks. Brown and stir, continuing to break apart bigger pieces as needed while it cooks.
Step 9
Once meat is fully cooked, about 10 minutes, mix together the taco seasoning per the directions on the packet and add to the pan. Stir in the seasoning until all the meat is coated. Add a lid to the pan and lower the heat to medium low for 10 minutes.
Step 10
Remove the tortilla cups from the oven and set aside for 5 minutes to cool.
Step 11
While cooling, collect and prep any toppings you wish you have with your tacos. Pictured above is Turkey Meat, Cheese, Sour Cream, Green Onions, Salsa, and a side of Guacamole. The toppings are endless!
Step 12
Once they are ready to handle, time to assemble, start with the meat and work your way with your garnishes. We found it easiest to place all 5 tortilla cups in a bowl and fill from the dish. 5 Tortilla cups will roughly come out to about 7.5 net carbs before toppings. Don't forget to garnish with green onions or cilantro, a little lime, and ENJOY!
---