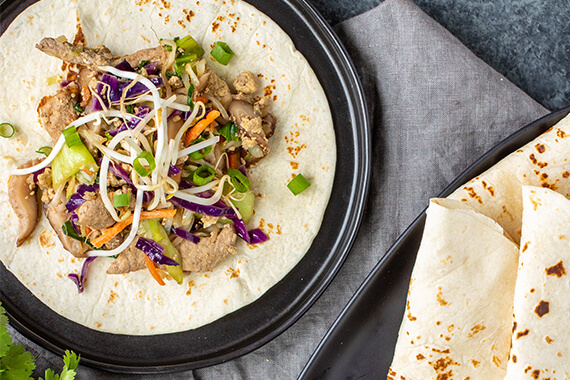 Low Carb Moo Shu Pork Tacos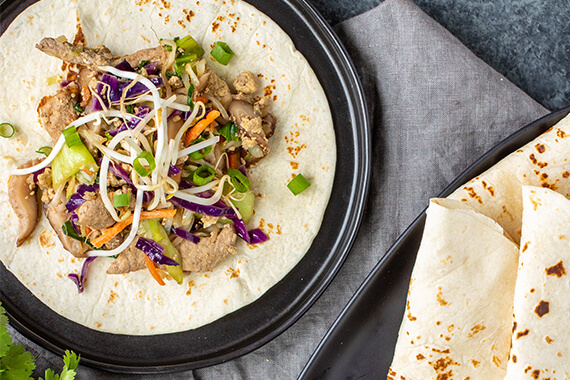 Featured Product
---
Ingredients
---
4
Carb Balance Soft Taco Flour Tortillas
1
lb Pork cut into thin strips
2
oz Bean sprouts, plus more for garnish
3
oz Bok choy, cut into thin strips
4
drops Liquid sweetener, or however much is desired
Instructions
---
Step 1
Mix all marinade ingredients together in a small bowl. Split in half.
Step 2
Place the thinly sliced pork in a bowl and pour ½ of the marinade over the pork. Stir around so the meat is fully coated, then cover and let marinate in the refrigerator for at least 2 hours. Store extra marinade in a small container in the fridge until ready to use.
Step 3
Whisk hoisin ingredients together in a small bowl and set aside.
Step 4
Whisk eggs together in a small bowl.
Step 5
Heat a large skillet over medium high heat. Add 1 tablespoon of vegetable oil and marinated pork. Cook for approximately 5 minutes until pork is mostly cooked.
Step 6
Pour eggs into pan and continue to stir and cook until the eggs are scrambled, approximately 1 minute
Step 7
Add the second tablespoon of vegetable oil, slaw mix, mushrooms, bean sprouts, bok choy, and the reserved marinade. Continue to cook for approximately 5 minutes, or until vegetables have softened.
Step 8
Warm up the Carb Balance Soft Taco Flour Tortillas for the best flavor (follow instructions on package) and serve with the Moo Shu Pork, extra bean sprouts and scallions for garnish, and a drizzle of low carb hoisin sauce.
Step 9
---