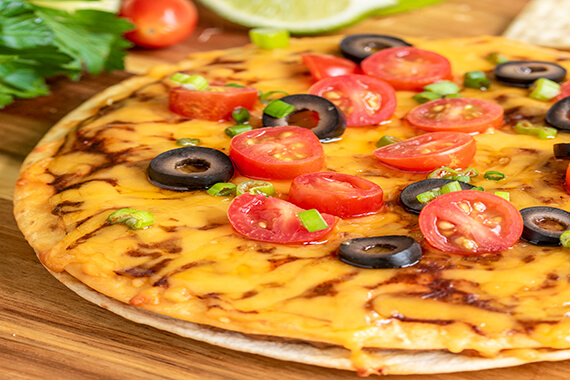 Mexican Pizza
Have fun throwing together this easy, extra cheesy, gooey Mexican Pizza. Layer with refried beans, seasoned ground beef, melted cheddar cheese, and your favorite toppings. It's a Mexican tortilla pizza fiesta!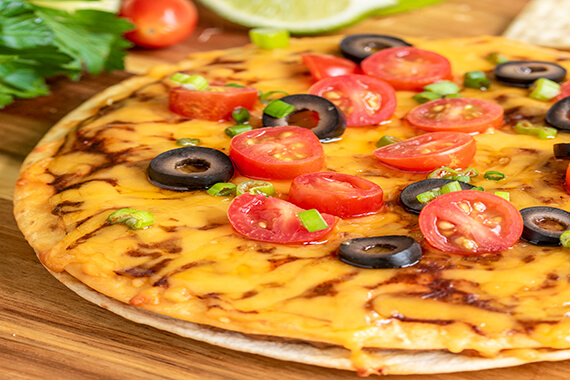 Featured Product
---
Ingredients
---
8
Mission Soft Taco Flour Tortillas
YOUR CHOICE OF FAVORITE TOPPINGS:
Fresh tomatoes, black olives, green onion, sour cream, etc.
Instructions
---
Step 1: Cook Ground Beef
In a skillet over medium-high heat, add ground beef and cook until it begins to brown.
Step 2: Add Onions
Add onions to skillet and continue to cook until meat is cooked through.
Step 3: Season Beef
Drain any excess grease from the meat and return to skillet before adding the taco seasoning and ¼ cup of water. Continue to cook, stirring together, until water cooks away. Set taco meat aside.
Step 4: Crisp Tortilla
In a large skillet over medium-high heat, spray the skillet with cooking spray and cook each tortilla until it begins to crisp slightly, approximately 1 minute per side. Set aside.
Step 5: Preheat Oven
Step 6: Layer Beans and Meat
Place a tortilla on your baking sheet and add one layer of refried beans, and one layer of taco meat.
Step 7: Top Off Pizza
To finish making your Mexican pizza, place the other tortilla on top and spread enchilada sauce over the top and top with shredded cheddar cheese.
Step 8: Make More Tortilla Pizzas
Continue this process with the rest of the tortillas to make more Mexican pizzas.
Step 9: Bake Pizzas
Place the baking sheet in the oven and bake your pizzas for 5-7 minutes, until cheese is melted.
Step 10: Add Fresh Toppings
Remove from the oven and top pizzas with your favorite fresh ingredients.
Step 11: Cut and Serve
Cut each Mexican tortilla pizza into 4 slices and serve.
Tip
Most likely, only 2 Mexican Pizzas will fit side-by-side on your baking sheet, so you will have to bake these in batches, two at a time.
---