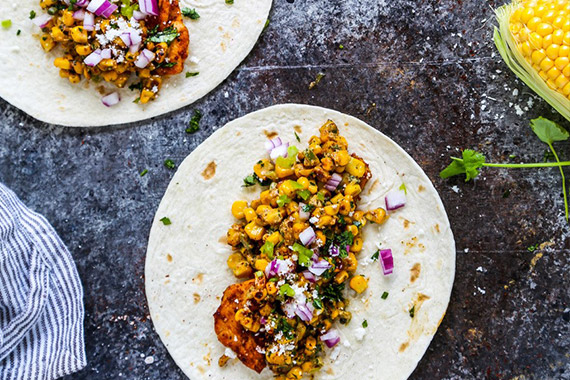 Featured Product
---
Ingredients
---
1
package Organic Flour Tortillas, warmed
1
tbsp olive oil extra virgin
2
ears corn shucked, kernels removed
2
tbsp cotija cheese crumbled
½
jalapeño seeded and minced
1
clove garlic finely minced or grated
2
chicken breasts, thinly sliced (about 1 pound)
¼
cup chopped red onion (optional)
Instructions
---
Step 1
Heat oil in a large non-stick skillet over high heat until shimmering. Add corn, season to taste with salt, and cook without moving until charred on one side, about 2 minutes. Toss corn, stir, and repeat until charred on second side, about 2 minutes longer. Transfer to a large bowl and clean skillet.
Step 2
Add mayonnaise, cheese, cilantro, jalapeño, garlic, lime juice, and chili powder and toss to combine. Season with salt to taste.
Step 3
Heat oil in the same skillet used for corn over medium-high heat. Add sliced chicken and sprinkle with taco seasoning. Stir to combine and sautee until fully cooked, about 5 minutes.
Step 4
Top tortillas with Mexican street corn and chicken and sprinkle with chopped red onions, if desired. Serve immediately.
---