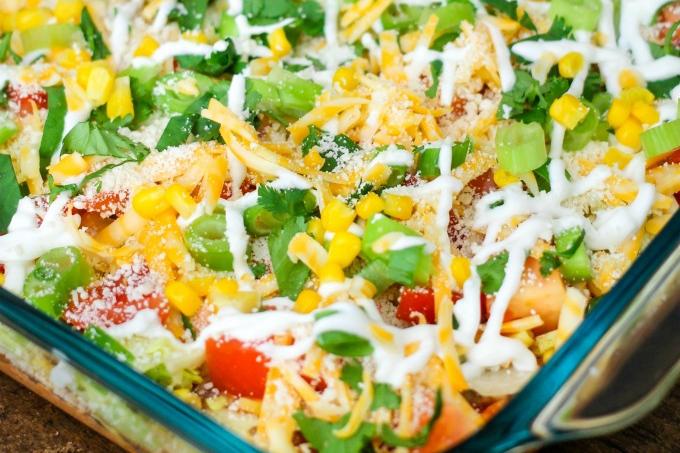 Featured Product
---
Ingredients
---
Mission Organics Blue Corn Tortilla Chips
1
14oz can refried beans, heated through
3
tablespoons taco seasoning, low sodium
1
cup iceburg lettuce, chopped
1 ½
cups colby jack cheese, grated
½
cup cotija cheese (optional)
⅓
cup green onions, chopped
1
handful cilantro, chopped
Instructions
---
Step 1
In a large baking dish, add refried beans and spread across the bottom.
Step 2
In a small bowl combine the sour cream with the taco seasoning, then spread in an even layer over the refried beans.
Step 3
Next spread the layer of salsa over the top. In layers add the lettuce, corn, tomatoes, colby jack cheese, cotija cheese, green onion and cilantro.
Step 4
In another small bowl, combine the Greek yogurt with the lime juice. Add mixture to a ziplock bag, snip the corner, then pipe/drizzle the lime cream over the top of the million layer dip. Add the remaining reserved amounts of ingredients.
Step 5
Place in fridge for at least 30 minutes, then serve with warm chips or tortillas.
---